Where Wildlife Lives on the Edge
Shorelines are important links between land and water. The edges of our lakes, streams, rivers, and wetlands — known as riparian zones — as well as ocean coasts, are essential to living things. Within these ribbons of sun, soil, moisture, and air, plants and animals depend on each other to survive.
These habitats are treasure-troves of biodiversity, providing food, water, shelter, and space for varieties of wildlife. They are home to everything from voles to vultures, songbirds to salamanders, and fish to frogs. Many of Canada's species at risk, including the spiny softshell turtle and piping plover, need healthy shorelines to survive.
Shoreline plants provide insects for fish. Decaying leaves, fruit, and twigs are important sources of nutrients for freshwater ecosystems. Shade from overhanging vegetation provides the cooler water temperatures needed by aquatic life.
A well-vegetated shoreline also acts as a buffer strip: a natural shield whose roots protect banks from erosion by anchoring soil; a giant sponge that stores moisture in its roots and the surrounding earth before releasing it into waterways during dry spells; a barrier that reduces the threat of flood waters spilling over banks; and a filter that traps such pollutants as pesticides and fertilizers that would otherwise make their way into aquatic habitats and out to sea.
Unravelling the Ribbon
We've allowed widespread human developments to alter shorelines, without understanding the value of these ribbons of life or the threads of interdependency that hold them together.
Because we like to build towns and cities near water, we've drastically reduced the extent of shorelines protected by buffer zones, stripping many lakes, rivers, wetlands, and sea coasts of their natural ability to cleanse themselves.
We've replaced native trees, shrubs, grasses, and wildflowers with ornamental species planted to the water's edge and saturated with chemicals.
We've introduced alien species like Eurasian water milfoil, flowering rush, zebra mussels, rusty crayfish, and purple loosestrife, which have muscled out native wildlife.
We've cleared stream banks for crops and allowed cattle to graze to shorelines, accelerating erosion and water pollution from fertilizers, pesticides, and livestock wastes.
We've pulled up trees, grasses, cattails, and water-lilies along waterfronts, replacing them with beaches, docks, and concrete retaining walls.
Such developments have had calamitous impacts on the life sustaining value of shorelines, replacing everything from wildlife corridors on land to fish-spawning grounds in the water with unproductive environments.
Reweaving the Ribbon
A new vision of shorelines is emerging: we are learning to live with them, instead of working against them. We can help reweave the ribbons that bind them together. Each project you do — for example, planting a vegetation buffer or building a nesting structure for waterfowl — is like a thread in these ribbons of life.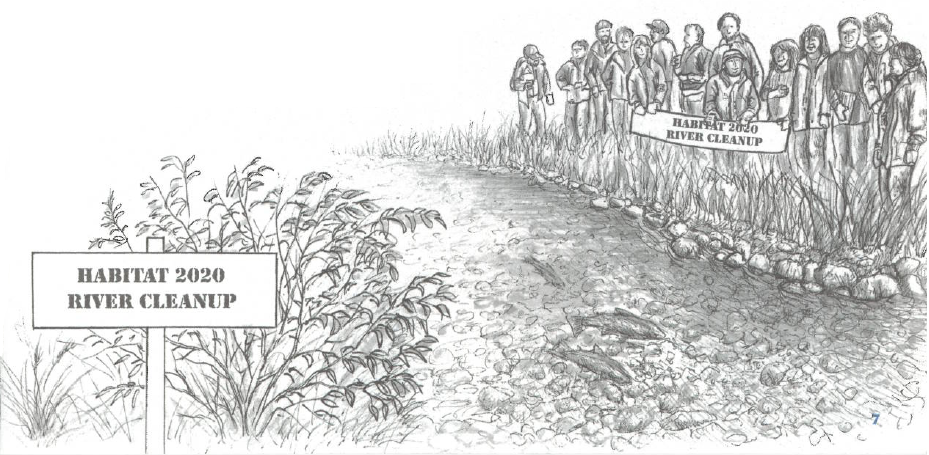 Copyright Notice
© Canadian Wildlife Federation
All rights reserved. Web site content may be electronically copied or printed for classroom, personal and non-commercial use. All other users must receive written permission.