By April Overall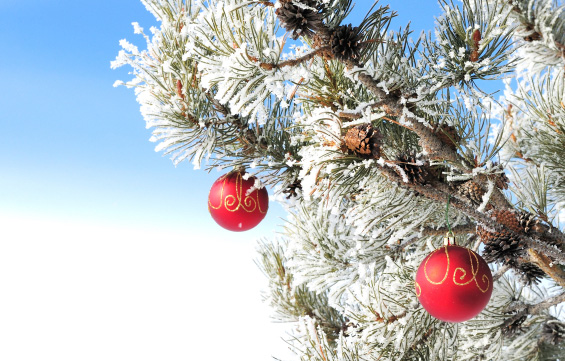 Think beyond twinkle lights and wreaths and decorate your property with eco-friendly bits and baubles this Christmas. Not only will your yard look like a winter wonderland, but the squirrels, birds and other wildlife will have something to celebrate too. Get your Santa hat on, and let's get festive!
A Feast for Feathered Friends
Attract your favourite backyard birds over the holiday season with a delicious treat. Fruity branches and seed heads from rosehips, red and blue viburnum, millet, coneflowers and even cattails will delight your feathered friends on a crisp winter afternoon.
Light Up!
There's something magical about turning the corner onto your snowy street and seeing your home lit up for the holidays. Just make sure you're light bright. Choose LED bulbs in your favourite Christmas colour. They'll last 10 times longer than incandescent bulbs, and they use up 70 per cent less energy than the not so eco-friendly competition. Want to go the extra mile? Set your outdoor lights on a timer!
Make Your Garden Glow
For an ethereal glow, scatter frosted globes around your garden or group them in an empty birdbath.
Give 'Em the Brush-Off
Add a brush pile in the corner of the yard using branches to offer shelter for foraging birds. This little nook will keep them safe from predators and harsh weather. It will also attract insects that like to chow down on the decomposing wood – the perfect midnight snack for birds, amphibians, reptiles and mammals. You can even add your Christmas tree to the mix after the festivities are over! Start your brush pile off right by picking around eight branches approximately two metres long, construct a teepee-like frame and pile evergreen boughs and smaller branches over the structure.
Merry Berry
Plant winter fruit–bearing shrubs and trees to lure wildlife visitors to your yard. Hollies and roses have hips that are chock full of vitamin C and will keep waxwings and cardinals sated. Winterberry is another tree that will attract birds like robins, grouses, bluebirds, thrushes, northern flickers and grey catbirds with its bright red-orange berries.
Jingle All the Way
Outdoor containers filled to the brim with evergreen cuttings, and a few winterberry branches added to the arrangement, will welcome guests and birds to your door. Add a few jingle bells to the mix for an extra smidge of magic!
Trim the Tree
Coniferous trees, like birches or spruces, are great choices to attract birds, like the ruffed grouse and crossbill, to your backyard. String currants, cranberries, dried oranges, frozen grapes and frozen cherries to the branches on Christmas Eve to wake up to a flurry of happy birds and squirrels on Christmas morning!
Make Your Feeders Festive
A row of bright red birdfeeders stocked with black sunflower seeds and suet is guaranteed to keep the birds in your backyard cheerfully chirping. Place the feeders at different heights to attract a variety of species. Blue Jays and grosbeaks will flock to platform feeding areas, while titmice and finches like to nosh at hanging feeders. And don't forget the ground feeders! You'll attract lovely mourning doves and juncos when you stock your feeders to the brim. These little guys will chow down on any seeds that fall from the elevated feeders.