December 7, 2011
By April Overall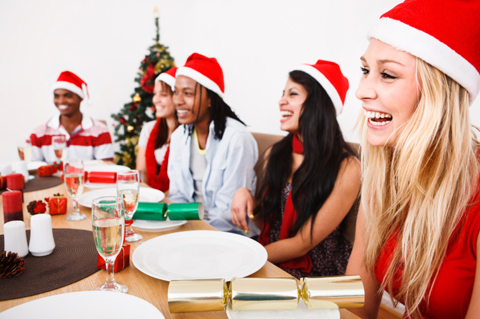 Inviting friends and family over for a holiday shin dig this year? Think beyond finding the perfect recipe for spiked eggnog — think green! You can have a perfectly stylish soiree that's eco-friendly too – we'll prove it.
Deck the Hall
….with boughs of holly! And evergreen branches. And pinecones! And cinnamon sticks too. Look to nature to spruce up your home this holiday – they'll make Christmas come to life in your home, plus all your decorations will be guaranteed to biodegrade once the festivities are through. First impressions mean everything, right? Welcome guests to your abode with a show stopping entrance. Swing by the market and pick up a real wreath to hang on your door. You can jazz up the wreath however you like – with pinecones, berries, or my favourite – posh ribbon. Fill your metal watering can with evergreen branches. And add a lantern to the mix. A natural source of light will act like a beacon at your front door, ushering guests to your front entrance with its warm glow.

Welcome guests to dust the snow off their hats, hang their coats and leave their boots at the front door. If it's been a particularly nippy evening, offer guests slippers for their frozen feet. Assemble guests in your living room or family room where they can curl up on the couch and admire the view. Ah the view. It's easy to create an ambiance that's not only green but warm too.
All is Calm, All is Bright
Drape evergreen branches over the mantle and interlace tall pillar candles (you can't have enough candles!). While you're at it, maybe you should start up a roaring fire in the fireplace – or not. The question is, what kind of fireplace do you have? Wood burning? Gas? Gas is a non-renewable source of fossil energy and when burned, they produce nitrogen oxide (found in smog) and carbon dioxide. No good. Believe it or not, it looks like a wood burning fireplace is better for the environment – but not by much. While wood is a renewable resource (for now), burning wood still emits carbon dioxide into the atmosphere. Still burning wood only emits the same amount of carbon dioxide as wood left to decay in the woods. If you really want to impress your guests and Mother Nature, install an eco-certified wood burning fireplace. According to Environment Canada, an eco-certified, wood burning fireplace is over six times more efficient than a traditional wood stove.

When in doubt, skip the fire and light candles. Everyone looks fabulous by candlelight, dahling. And so should you and your guests! Opt for soy, vegetable-based or beeswax candles over paraffin though. Paraffin can actually harm the environment (and your own health!) while these natural alternatives won't smoke and will biodegrade. So go ahead, flick off the lights and strike a match.
A Festive Feast
I can hear your guests' tummies rumbling. Set the table with a tablecloth, pull out the silverware and fine china and create an eco-friendly centrepiece. If you've got a round table, decorate it with potted plants or flowers in red, white or green that you can enjoy year round. For traditional, rectangular or square dining tables, lay boughs of evergreen along the middle of the table and place crimson pomegranates, red apples or oranges amid the foliage.

Grub time! According to Britain's Environment Agency, a typical Christmas dinner made from imported ingredients travels more than 24,000 miles or once around the globe. Only Santa's supposed to make that trek at this time of year! So do a little research. Talk to your local butcher about serving local ham or turkey for your meal. Introduce winter vegetables like turnips, squash and potatoes for your meal and make sure they didn't travel far to reach your table. And keep your guests' glasses filled to the brim with wine from your province.
The Gift Exchange
Your guests have been eyeing the tree all evening. And who could blame them? Your tree is dazzling and, with a little help from CWF, guilt free! Dress your real Christmas tree with energy efficient LED Christmas lights. And get your kids involved! If they're old enough, ask them to string popcorn and cranberry for the tree. Ask them to trim the tree with handmade ornaments. And don't forget CWF's Hallmark ornament for the 2011 holiday! Done? Not quite. You need to give the tree a little bling. But whatever you do, don't use stringy tinsel. Victorian tinsel, made with metal, will make your tree sparkle and can be re-used annually.

Let's be honest. What's a tree with no presents under it? This year, use bags instead of wrapping paper to glam up your gifts. That way you can use them for next year's bash too! Better yet, make a pact with your friends or family to give the gift that keeps on giving: donate to the Canadian Wildlife Federation in lieu of gifts.
Have a very merry, eco Christmas!