By April Overall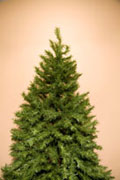 Christmas crunch time. You've got five holiday parties to attend in the next three days, Fido has ripped apart the gifts you just finished wrapping, and you've eaten half your stash of shortbread cookies from the stress of it all. If it seems like nothing's going quite right this festive season, get some good holiday karma by greening your Christmas tree.
Faux Faux Pas
Think you're doing the forest a favour by pulling out your artificial Christmas tree year after year? Think again. Your faux tree is made of nonrenewable materials like aluminium, polyvinyl chloride and plastic. In 2005 alone, $36.6 million worth of fake trees were exported from China to land in our living rooms. Even if you plan to trim yours with ornaments for a decade until it resembles Charlie Brown's sad pathetic tree, it'll still take 390 more years to breakdown in a landfill.
Tried and True
Get a real tree from a Christmas tree farm for a greener festive tradition! "It takes eight to 12 years to grow a harvestable Christmas tree from a seedling," says Dave Lemkay, the General Manager of the Canadian Forestry Association. As they grow from saplings to full grown trees, they'll absorb carbon dioxide and reduce the chance of erosion during heavy rain falls by stabilizing the soil. And for every tree cut at a Christmas tree farm, two more are planted, says Ross Gough, the executive director of Christmas Tree Farmers of Ontario. That's good news for us. Just one acre of Christmas trees generates enough oxygen for 18 people.
Go Local
Still worried about your carbon footprint? Gough says that most Christmas trees are grown within 100 kilometres from where they're sold. For people on the east coast, Quebec and Ontario, pick a balsam fir. If you live out west, nab a douglas fir.
Nurturing Nature
"Most Christmas trees grown in Ontario use some pesticides. But chemicals are quite expensive so growers will do whatever they can not to use them. Furthermore, there aren't a lot of pesticides that are approved for Christmas trees by Health Canada's Pest Management Regulatory Agency," says Gough. And buying an organic tree is not far off. Gough is currently working with EcoCert, an organic certification organization, to devise organic standards for Christmas trees.
Trim the Tree
Do swap your incandescent string of lights for LEDs. They'll last 30 times longer.
Don't leave your lights a glow all night long or when you're away.
Don't use artificial snow since it's made of synthetic foam and doesn't biodegrade. Opt for icing sugar to give your tree that winter wonderland look instead.
Post-holiday Burnout
December 26th. Santa's come and gone. And you're done with Christmas. Here's how to chuck your tree in an eco-friendly way:
Recycle it. Call your municipality and they'll turn your tree into mulch. In Hamilton, Ont., the Royal Botanical Gardens have used old Christmas tree mulch to filter the Cootes Paradise which empties into Lake Ontario. This mulch has stopped invasive fish species from seeping into the wetland, thereby protecting its native species.
Place your tree into your backyard for the rest of the winter so birds can use it for shelter.
Whatever you do, don't burn your Christmas tree. If you do, all the carbon dioxide it has absorbed over its lifetime will be released into the atmosphere.