By Chelsea Ferguson
Did you know bats are more closely related to humans than rodents? Canada is home to 19 species of bats, all of which are important to our environment and economy. Although we don't often lay eyes on this nocturnal animal, they're hard at work every night eating thousands of mosquitos and other insects. In fact, a bat can eat its own body weight in insects in a single night! Not only does this make bats great backyard visitors, it is also estimated to save North America's agriculture industry $3.7 billion every year.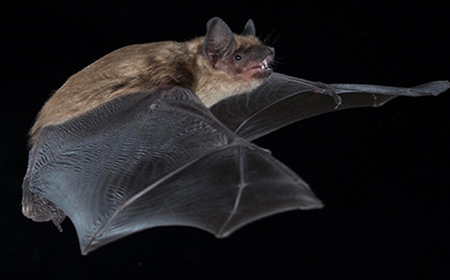 Inviting bats to your yard this summer is a great way to enjoy some free pest control and to contribute to wildlife conservation. It's important to note that recent concerns that COVID-19 may have originated in bats do not apply to Canadian bat species – read our statement here. In fact, Canadian guidelines have turned the tables. Current recommendations are to halt bat research that puts people in direct contact with bats – not for our sake but due to concerns that humans might infect already declining bat populations with the virus.
Bats have many obstacles to overcome in addition to a misleading reputation. Millions of bats in North America have been wiped out by white-nose syndrome, an often-fatal disease brought to North America by humans that can spread quickly among bats. Habitat loss, pesticide use and eviction from roosting sites are added threats for these small mammals. Fortunately, we can all help Canada's endangered bat species by making our yards safe spaces for them to visit and roost.
Create a Backyard Oasis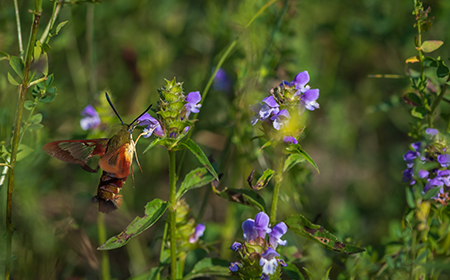 Just like us, bats enjoy places with plenty of good food. They are happy to swoop in for a visit to take care of the insects buzzing around your property. The best way to support a healthy insect population is to plant an assortment of native plants, which are best suited to support insects and other pollinators. Not only does this help to provide a feast for bats, it also helps to recover our essential and threatened pollinator populations. To ensure bats have safe, clean food, refrain from using herbicides and pesticides that end could ultimately end up in a bat's stomach.
Bats need a safe, suitable place to roost in spring and summer. Most Canadian bat species only give birth to one pup per year, so every birth is essential to population growth. Sadly, increasing habitat loss makes it difficult for bats to find adequate roosting sites. You can help by leaving snags (dead or dying trees) on your property, as long as they are deemed safe. Many bat species will roost in dead or hollow trees or tree cavities.
Build a Bat Box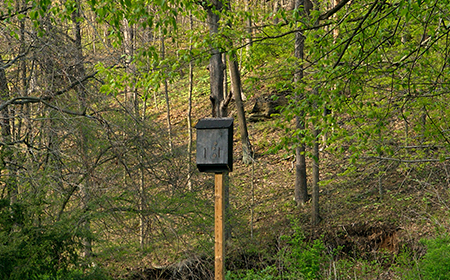 If your yard isn't home to natural roosting sites, don't worry. You can still help by building and installing a bat box for a female bat and her pup! This is especially important to help conserve the Endangered Little Brown Bat. Building your own bat box is a fun and rewarding project for the whole family! We have free DIY building instructions as well as a handy bat house checklist.
You can also partake in a little citizen science by monitoring your bat house and uploading your observations to the "Help the Bats" project on iNaturalist Canada. We have a simple monitoring protocol that will walk you through all the steps. Not only will you directly help a female bat and her pup, you'll also help scientists understand the current state of bats in Canada.
Bats are small mammals with a mighty environmental and economic impact. We hope you'll join us in helping Canada's endangered bat species this summer by inviting them to your yard. For more information, visit HelpTheBats.ca.
Copyright Notice
© Copyright Canadian Wildlife Federation
All rights reserved. Web site content may be electronically copied or printed for classroom, personal and non-commercial use. All other users must receive written permission.