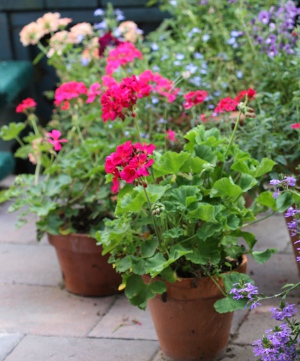 If you don't have access to garden space, but would still like to attract some wildlife to your doorstep, you can create your own green space. Your balcony or patio can be converted to a wildlife-friendly "garden" paradise through the use of container plants.
Containers can also be useful for homeowners, to extend green space onto their deck or fill barren garden beds while they fill out.
With only a few containers you can beckon butterflies, hummingbirds and other wildlife.
Collect an array of planting containers. Use commercial ones made of wood, metal, plastic, clay, and ceramic, or recycled ones. Anything that holds soil and is large enough to allow healthy plant growth — tin cans, milk pails, old buckets, feeding troughs, wastepaper baskets, wheelbarrows, rusty wagons, enamel basins, half whisky barrels, orange crates lined with plastic, flue tiles or drain pipes standing on end — will do beautifully.
Poke or drill drainage holes in container bottoms. Add a layer of pebbles to encourage seepage. Fill pots with moisture-retaining soil.
The height or width of the container should be 2/3 the height of the plant you wish to grow.
If you are using containers, such as clay pots, which have large holes in the bottom, you should cover the hole with pieces of broken clay pottery or stones to keep the soil in while allowing water to drain out.
Clay pots allow water to evaporate through their walls and therefore require frequent watering. Choose more drought-resistant plants if using clay pots.
Containers require regular watering during hot, dry summer months, so be sure to check them daily and water them when they start to dry out. Morning is the best time to water. Be careful, however, not to over-water plants in plastic pots, which hold water in.
Line the insides of wooden containers or baskets with plastic to keep them from rotting. Lining wooden containers, especially those used for olives or other foods stored in brine, will also protect the plants from any remaining residues. Pull the plastic liner out through the drainage hole and cut the tip off to allow the water to drain out. (Baskets and some wooden containers may first require treatment with a preservative to withstand outside weather.)
Use soil-based potting mixes if your plants will stay in the pot for a long time.
Good potting mixes provide the nutrients plants require, but if left for a long time these can become used up and the plant will require feeding. Explore natural fertilizer options such as compost, aged manure or nettle tea. If these aren't available to you, try slow-release feeding pellets inserted directly into the potting mix or add soluble feed to the water, following the directions given. You will also need to supply plants with fresh potting mix every few years.
Place containers in sheltered parts of your courtyard or balcony, choosing locations which suit the lighting requirements of the particular plant. Arrange them on surfaces, such as planks laid across cement blocks and multi-level shelves or "terraces" made of plastic-coated metal. Nestle larger receptacles in corners. Hang planters from arbours, fences, railings, arches, and walls. Use lattices and trellises to support vines planted in pots on the ground.
Unfortunately, with Canada's climate, container plants will not survive our cold winters. Your options for the winter are to bring the plants inside, transplant them into the garden (or sink the whole pot into the soil), or let them go and replant next year. (Remember, clay pots will crack if left outside during freezing weather)
Some Suggestions for Container Planting:
| | | |
| --- | --- | --- |
| Type of Container Plant | Suggested Plants | Attracts |
| Aromatic herbs (allow to flower) | coriander, lavender, catnip, rosemary, thyme, parsley, mint | butterflies and other pollinators, beneficial insects |
| Annuals or plants grown as annuals | marigold, bachelor buttons, phlox, petunia, zinnia, cosmos, lobelia, salvia | butterflies and other pollinators |
| Shrubs for large containers | juniper, cedar, American elderberry, common winterberry, northern bayberry, running serviceberry | birds |
| Taller plants for large containers | shasta daisy, cornflower, iris, aster, bergamot, goldenrod, fireweed | butterflies and other pollinators |
| Plants for containers in the shade or semi-shade | Solomon's seal, Jacob's ladder | pollinators |
| Trailing plants for hanging baskets | fuchsia, morning glory, lobelia | bees, butterflies, hummingbirds |
| Climbing plants | morning glory, trumpet honeysuckle, purple clematis, Virginia creeper | butterflies and hummingbirds |
| Perennials | delphinium | hummingbirds |
| Perennials | violet, sedum, wild strawberry | butterflies |
Related Links: