March 21, 2019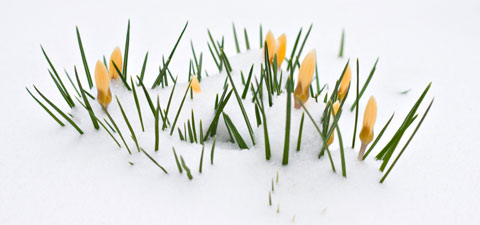 After a beautiful but seemingly long winter, you begin to anticipate a new season that will bring a gust of life to your yard. The snow is almost gone, and your eyes are peeled for your favourite early spring birds. You hear the familiar sound of Canada geese, and suddenly robins, song sparrows, purple martins and flickers are about, rummaging for early food sources. Raccoons, bats, birds and squirrels are looking for spots to rear their young. Spring bulbs in your garden are pushing through the ground, and you know you'll be happily wrapped up in your garden soon. As you appreciate the fleeting blooms of trilliums, blood root, pasque flowers and trout lilies, you realize this is just the beginning of a parade of colour that will follow with the warmer weather to come. Here are some gardening tasks for the wildlife enthusiast best tackled in early to mid-spring:
Wildlife
Continue to stock feeders. Early foods are still scarce, and there is still the possibility of snow.
Place raisins and other cut-up fruit in bare spots under a tree to please early birds like robins.
Put up bluebird and tree swallow houses once the first dandelions appear or when these birds return.
Put up bat boxes.
Set up and fill a bird bath once temperatures are above freezing.
Put out hummingbird feeders so early arrivals have a source of nectar while flowers are scarce.
Allow a grace period for animal intruders that have set up an inconvenient nesting spot (like on your front door) until their young are mature. If you must, call a humane wildlife-removal company.
Pest-proof your house. Ensure there are no intruders, then seal all entry points like your attic, vents and chimney. Animals may consider these spots appealing places to raise their young.
If you pest-proofed in the fall, ensure the barriers don't need repair.
Put up fences early if needed to prevent unwanted wildlife from habitually feeding in your garden.
Leave scraps of yarn or cut hair in your yard for birds to use as nesting material.
Look for egg masses in trees made by damaging tent caterpillars or gypsy moths and remove them.
Look for birds on early spring mornings, one of the best times for birdwatching
General gardening chores
Place winter mulch in the compost to allow the soil to warm up. Leave permanent mulches in place.
Clean up the dead stalks from last year's perennials that were left through fall and winter to provide shelter and seeds for wildlife.
Put excess grass clippings in the compost pile.
Add manure or compost to fertilize the soil as soon as the soil is workable.
After spring thaw, till any areas of green manure into soil to decompose and enrich the earth.
Planting and Pruning
Plant bare-root deciduous trees and shrubs early in spring.
Red maple, birch, dogwood, beech, poplars, willows, ash, elms, white oak, hemlock and larch are also best planted in spring.
Start seeds indoors. Avoid planting too early or they will grow too tall without the necessary stem thickness to support the leaves. Start seedlings about four to six weeks before transplanting them outside.
Acclimatize any seedlings started indoors before planting outside. Use temporary "houses" outside to shield them from heavy rain, strong winds or temperature dips until they get used to the weather.
Plant cool season plants once the soil is workable.
Transplant flowering shrubs before the leaves start to appear.
Divide and transplant later-blooming perennials, such as beebalm, black-eyed Susan or bergamot.
Start planting any purchased perennials.
Prune most trees in late winter or early spring before growth begins. Do not prune while wood is frozen. In most areas of Canada, where winters are cold, spring pruning gives the trees and shrubs the best opportunity to grow and heal over the pruning cuts. Fall or even late summer pruning can cause winter damage.
Prune summer-flowering shrubs before growth begins in spring. Prune spring-flowering shrubs after flowering.
Prune cedar hedges early in the growing season (it is safe to do so) and again, if necessary, by midsummer.
Repot container plants before moving them outside. Do this every couple of years, when the roots begin to creep out the bottom or the plant begins to look deficient. For young growing plants, this may be required several times a year.
Acclimatize any seedlings started indoors before planting them outside. Gradually increase the time they spend outdoors and place in an area sheltered from heavy rain, strong winds or temperature dips until they get used to the weather.