By Terri-Lee Reid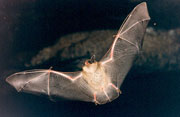 Little brown bat
Photo: M.B. Fenton
Q. Do bats carry rabies?
A. Bats have long been feared as carriers of rabies. However, less than one per cent of bats contract rabies ― no higher than the rate in many other mammals. Also, once a bat is infected with rabies, they quickly become paralyzed and die. However, bats should never be handled. Like all wild animals, they are likely to bite in self-defence.
Bats have been maligned for centuries, miscast as the familiars of witches, associated with Halloween, and feared for the false belief that they will get caught in hair. In reality, bats are incredibly important to the health of the environment and our gardens.
In fact, bats are the primary predator of night-flying insects such as moths, mosquitoes and beetles. A single bat can catch hundreds of insects in just one hour; consuming between 30 to 50 per cent of its body weight in insects each night.
Learn more about bats and how to help them.