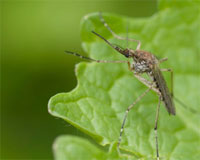 Scientific Name:
Culicidae
Description:
Mosquitoes are thin, long-legged, two-winged insects and are typically six to 12 millimetres in length. Both males and females have antennae and an elongated "beak" or proboscis three to four times longer than its head.
Photo Gallery:
Range:
There are thought to be 82 species of mosquitoes in Canada and over 2,500 species in the world. There are 10 main groups in Canada but only five of them have members that are significant pests of humans: Anopheles, Culex, Aedes (including Ochlerotatus), Mansonia (Coquillettidia) and a few species of Culiseta.
Habitat:
Mosquito habitat varies for each species and can include natural areas such as rain puddles and ponds, decomposing material such as wet leaf matter, ditches and marshes. While healthy wetlands are habitat for mosquitoes, they are also home to mosquito predators.
Diet:
Female mosquitoes of most species need to feed on blood to develop eggs. Male mosquitoes cannot bite and both sexes of mosquitoes use their long proboscis to feed on the nectar of flowers or other sugar sources like honeydew.
Behaviour:
Mosquito breeding varies per species however the common traits include eggs being laid in fresh or stagnant water. All mosquitos need water to develop. From eggs they transform into larvae stage, looking like a wiggling worm. As they moult they turn into pupae which are comma shaped in look and they are busy growing wings and legs. When they are done growing they break out from the pupal skin as full mosquitos.
More on this Species:
References:
Hinterland Who's Who
---