Keywords:
habitat, pond, nest, barrier
Break Down Barriers
With a little planning, physically and mentally challenged students can help bring habitat back to health. They can create small habitats for insects, birds, and other creatures in raised bed planters, window boxes, grow bags, and other containers that bring plants to a height where they're easy to tend to. Feel free to improvise your own custom-designed, barrier-free habitats.
Brainstorm with students and parents for ideas.
A simple lap tray will allow youngsters in wheelchairs to carry tools and seedlings from place to place.
Arbours and trellises can bring climbing plants up to a manageable height for youngsters to tend and appreciate. (Try scarlet runner beans to please hummingbirds.)
Hanging baskets can be raised and lowered with pulleys for easy care.
Paths need to be smooth, level, and firm for wheelchair travel. Wood chips are too soft. Crushed stone or gravel is probably the best low-cost surfacing but must be firmly packed.
A gentle wind chime will help orient visually impaired students.
Raise Habitat High
Raised beds are large, bottomless boxes, built to hold soil and plants and to allow drainage to occur. They're easy to reach for people in wheelchairs and for those who can't kneel.
Pick your location carefully — once filled, the box will be too heavy to move. A sunny spot with wind protection is best. Situate the bed with one end facing north, the other south.
Use rot-resistant or pressure-treated wood to slow decay. Pressure-treated lumber contains arsenic, which can leach into soil. Line the sides of the planter with two layers of plastic vapour barrier. Or try using landscape timbers or recycled railroad ties. Make sure the ties are old enough that they do not smell of creosote when warmed in the sun.
Use screws, not nails. The swelling and shrinking of wood loosens nails.
Protect wood from warping and splitting with paint, stain, or sealant.
Calculate just the right height by having a student in a wheelchair sit alongside a table as though it were a raised planting bed. The bed's height should allow the youngster to tend plants comfortably.
Also measure how far students can comfortably reach towards the centre of the table. This measurement should be the approximate width of a one-sided, raised planting bed. Double the measurement for beds accessible from both sides.
Add a narrow "shelf" around the edge of the bed so students can sit there to care for plants.
Sand rough edges to eliminate slivers.
Fill beds with native plants that appeal to hummingbirds and insects. To keep hummers happy, try columbine, wild geranium, delphinium, or day-lily. Bees and butterflies will appreciate Queen Anne's-lace, black-eyed Susans, goldenrod, asters, and common thistle. Place tall plants at the north end so they don't cast a shadow over the others.
Plant aggressive species, such as milkweed (the monarch butterfly's favourite), in separate pots. This strategy will stop them from taking over.
Plant fruit-bearing shrubs, like common blackberry or chokecherry, to accommodate birds.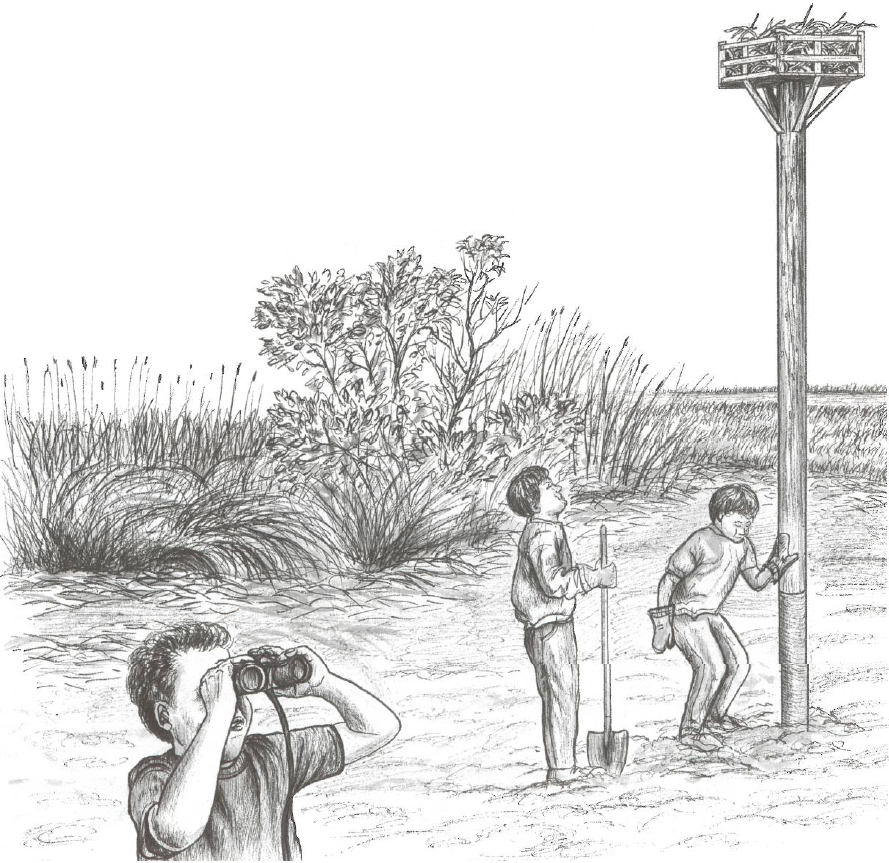 Half-barrel Pond
A miniature water garden will offer critical breeding habitat for insects and amphibians while remaining in reach of physically challenged students.
A whiskey barrel cut in half makes an attractive schoolyard mini-pond. A variety of sturdy plastic, clay, or concrete containers will also do.
If you use a half barrel, first rinse it thoroughly by filling it with water and dumping it every couple of days for about a month. This process should also expand the slats enough to seal the container. You can omit this step if you use a rigid plastic liner inside the barrel.
Place the container close to a water source but away from shedding trees and shrubs. Pick a spot that receives no more than three hours of direct sunlight each day; otherwise, algae will grow out of control.
Fill your pool with water, then wait at least 36 hours for chlorine to evaporate before adding plants. Place native aquatic plants in pots, soaking them thoroughly before submerging them in the tub. The best soil is heavy garden loam mixed with a bit of clay and well-rotted, not dried, cow manure. To keep the water from becoming cloudy, top the soil with a thin layer of coarse sand or pea gravel.
Place the pots on submerged flat rocks or bricks within the water.
Add water each week, letting the pool overflow for a few minutes. Rainwater is best. Otherwise, use water from a second container that has sat long enough to eliminate chlorine.
Before winter freeze-up, remove the plants and store them in a cool, dark spot such as a basement. Keep the soil evenly moist, not wet. By spring, your plants may look quite forlorn, but they'll soon perk up in their mini-pond.
Empty water from the container before winter, scrub it well (no chemicals, please), and leave it empty until spring.
A New Lease on Leaves
Make the most of fallen leaves. Decomposed leaves used as a mulch or soil conditioner can act like a tonic to perk up unhealthy habitats.
Construct one or more simple bins to contain the leaves. As it takes about two years before leaves thoroughly decompose, it makes sense to start a new bin or bins each fall.
Use chicken wire or some other mesh material for the sides. No cover or bottom is required. Unlike compost, leaves don't need warmth to decompose.
Leaves should be moist when put in the bin. Collect them after rain or sprinkle them with a hose. Use deciduous leaves only. (Note that some children are allergic to leaf mould.)
To speed up the decomposition process, mix in fresh grass clippings. Bacteria in the grass will help the pile rot within a year. (Try adding clippings to one bin, but not to another, then compare the results.)
The compost is ready when it has transformed into a dark brown, coarse material. Spread it as a mulch, dig it into the soil, or mix it with organic fertilizer. (Try another control test, comparing plant growth both with and without the leaf-compost mixture.)
Habitat Holders
A collection of small plant containers can provide mini-habitats that are easy to move around and are also accessible to handicapped students.
Place containers of various sizes on simple surfaces such as planks laid across cement blocks.
Hang containers from walls, arbours, fences, and railings.
A three-step "terrace" can bring small planters within easy reach. Build the terrace of plastic-coated wire mesh.
Containers can be redwood, cedar, plastic, clay, or other material. If your budget is tight, anything goes, including waste-paper baskets, orange crates, tin cans, or plastic bottles cut in half.
Smaller containers dry out quickly, so water regularly.

Copyright Notice
© Canadian Wildlife Federation
All rights reserved. Web site content may be electronically copied or printed for classroom, personal and non-commercial use. All other users must receive written permission.