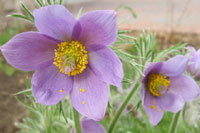 Scientific Name:
Anemone (or, sometimes, Pulsatilla) patens var. multifida.
Other Common Names:
prairie crocus, windflower or pasque flower
Description:
Pasque flower grows up to 30 centimetres tall and forms a rounded clump, which increases yearly. It never gets out of hand, making it a desirable plant in any gardener's flower bed.
It carries one flower with purple petals and yellow stamens, on top of each stem.
Photo Gallery:
Range:
The pasque flower ranges in Canada from the Yukon and Northwest Territories down through British Columbia and across to the western tip of Ontario and is the floral emblem of Manitoba. In fact, in Winnipeg, Manitoba, the Living Prairie Museum celebrates its emblem with "Crocus Days" on weekends in late April.
Habitat:
The pasque flower typically grows in open areas such as prairies, rocky outcrops, slopes and occasionally in woodland clearings.
Primary Ecosystem Roles:
The pasque flower's abundant pollen attracts bees, which are eager for a food source at this early part of the spring. According to Johnny Caryopsis who wrote for NatureNorth.com, the flowers are also a place for small insects to warm up, thanks to the arrangement of its sepals, which reflect sunshine, increasing the temperature by several degrees.
---
By Sarah Coulber
In the spring, it is fun to walk through our gardens here at CWF and see the first blooms of the year. They brighten the garden when leaves are still curled tightly in their buds and the ground is bare. One such plant is Anemone (or, sometimes, Pulsatilla) patens var. multifida. Also known as prairie crocus, windflower or pasque flower, its down-covered leaves and stems are as stunning as the showy flowers that adorn them.

Appearance
New growth typically begins as soon as the snow melts, and flowers bloom soon after, hence its name pasque flower which refers to Easter – Pâques in French – or Passover, which occur around the time of its flowering. The centre of each flower – the female part of the plant – has white or purple styles and is encircled by bright yellow stamens – the male part of the flower that produces pollen. These are surrounded by petal-like sepals, which can range from pale to deep purple and sometimes white.

The silky hairs that cover the stems and finely cut leaves are also found on the underside of the sepals, giving the plant a unique look and serve as protection against late frosts. One flower grows atop each stem and, when pollinated, creates an attractive seed head that is also covered in silky down.

Uses
Its leaves and stems are typically left alone due to the plants' toxicity. In the past, humans used pasque flower to treat ailments including those of the eye, respiratory and reproductive systems, and it is similar to the European plant Anemome patens, which is used in homeopathic remedies
Caution: We are not recommending the use of these plants for medicinal or food purposes. Many plants are poisonous or harmful if eaten or used externally. The information on food and medicinal value is only added for interest. The accuracy of this information has not been tested.

Propagation
Once your pasque flower has ripe seeds that are ready to detach, gather the seeds and sow directly in your garden or in pots left outside. If your area is cool enough to experience frosts at this time, leave the pots in a cold frame that offers protection on those extra cold days and nights. After a month you should see the beginnings of a new plant emerge from the soil.

If you decide to wait, store the seeds in the refrigerator in a sealed bag with slightly moistened vermiculite or sand for two months prior to planting, be it indoors or outside. Alternatively, you can plant outside in the summer or fall and let nature provide the cold moist conditions for germination the following spring.
After a couple of growing seasons, your plant will start blooming, with more blooms added each year for several years.
Care
The pasque flower typically grows in open areas such as prairies, rocky outcrops, slopes and occasionally in woodland clearings. These plants therefore tend to do best in well-drained soil and full sun, although they can do well in partial shade in warmer regions of the country.
______________________________________________________________________________
Growing native plants can save time and money. It can also be rewarding to the eye and help our beautiful and beneficial wildlife neighbours.
To learn more about growing native plants in your garden, visit WildAboutGardening.org/en/growing/section4/index.htm.