By April Overall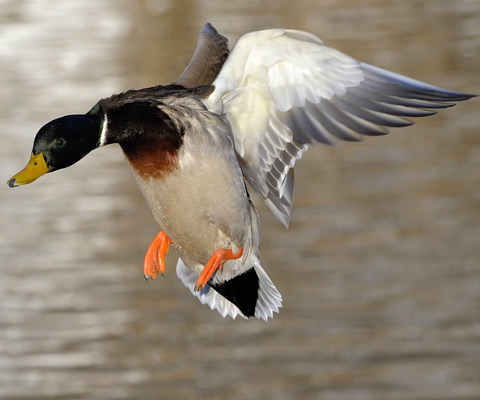 Photo by: Mr. Bert De Tilly of Sainte-Thérèse, QC
What if the only way you could get from point A to point B was to huff it? And what if point B was thousands of kilometres away? That's just the kind of trek millions of birds face every year as they make their way to their wintering grounds. How do they do it? Read on to find out!
Prep Time
Birds don't just get a hankering to flap their wings and end up in Florida. There's a lot of preparation that goes into migration. The first step is to bulk up. For days, birds spend a copious amount of time chowing down, swapping seeds for insects to boost their energy levels. Like a good pair of stretch jeans, the birds' digestive organs expand, enabling them to mow down until they can't take another bite. And all that fat doesn't go to their hips; it gets packed on strategically so that flying doesn't drag them down, making their lower backs a perfect place for a paunch.
How much can they pack on? Some species, like warblers, might weigh in at less than an ounce, but with a 4,000-kilometre stretch ahead of them and no rest in sight they double their weight before heading out. All that fat helps them fuel up for the trek. Unlike mammals, birds tap into their fat reserves before dipping into energy provided by protein and carbohydrates, which allows them to keep going without hitting a wall. Their hollow bones and ability to inhale purer oxygen than any mammal also help keep them going.
Moreover, birds bulk up for added energy, boasting thicker and denser pectoral muscles. What's the Arnold Schwarzenegger of migratory birds? The red knot, which you can read about in our Feature Project story this month; their pectoral muscles swell by 40 per cent! Some species do rest during migration, and while they replenish their fat reserves their pecs shrink down along with their legs and stomachs. Once they've put on enough pounds, they start packing on the muscle again, and before you know it they're ready to take to the skies.
Gimme a V!
Some migratory birds group together in formations that'll save them some huffing and puffing. Larger birds, like Canada geese, fly in V formations, but did you know J structures are even more common? These structures help birds conserve energy by taking full advantage of the vortex fields created by the wings of the birds ahead of them. Namely, birds take turns leading the group and taking the brunt of the wind, giving the birds behind them some well-deserved rest. These formations allow the birds to fly up to 70 per cent farther than they would going it solo. The formations also make it easier for them to communicate with one another to ensure they're headed in the right direction.
Internal Compass
How do they know where to go? There have been plenty of theories and scientific studies to debunk the mystery of migration.
Theory #1: Super Sight
Some researchers believe that a bird's eyes have molecules that sense the Earth's magnetic field. Talk about super powers! Here's how it works: when light enters the eye it triggers a compound, which results in the creation of radical pairs of electrons. These electrons have a property called "spin," and research shows that magnetic fields can make such spins align. The heck, you say? So, when the Earth's gravity lines up with the bird's spins, it becomes a sort of internal compass, allowing the bird to read the Earth's magnetic field and guiding it to its target destination. A University of Oldenburg study of European robins found that these cells in the eye let the bird know which way is north and help them migrate accordingly.
Theory #2: Age Old Wisdom
Scientists at Princeton University conducted a study with adult and juvenile migratory sparrows and found that the adults could find their way to their wintering grounds even after being released thousands of kilometres off course, whereas the juveniles could only figure out that they need to head south. According to the researchers, these sparrows come equipped with an internal compass that tells them which way is north, but only adults carry internal maps allowing them to get to their desired locations.
Theory #3: Brilliant Beaks
Some researchers believe that birds have mini magnetic crystals in their beaks/bills that pick up on shifts in the Earth's magnetic field, helping them adapt their direction accordingly.
Theory #4: Follow Your Nose!
Researchers at the Max Planck Institute for Ornithology believe birds rely on their sense of smell to help them navigate. Scientists captured adult catbirds in Illinois, applied a saline solution to a handful of the birds' nasal mucous membranes to adapt their sense of smell (don't worry – it didn't hurt the little guys, and their sense of smell went back to normal after) and released them in New Jersey. The catbirds whose sense of smell was adapted couldn't figure out where to go but still flew south, falling back on their internal compass.