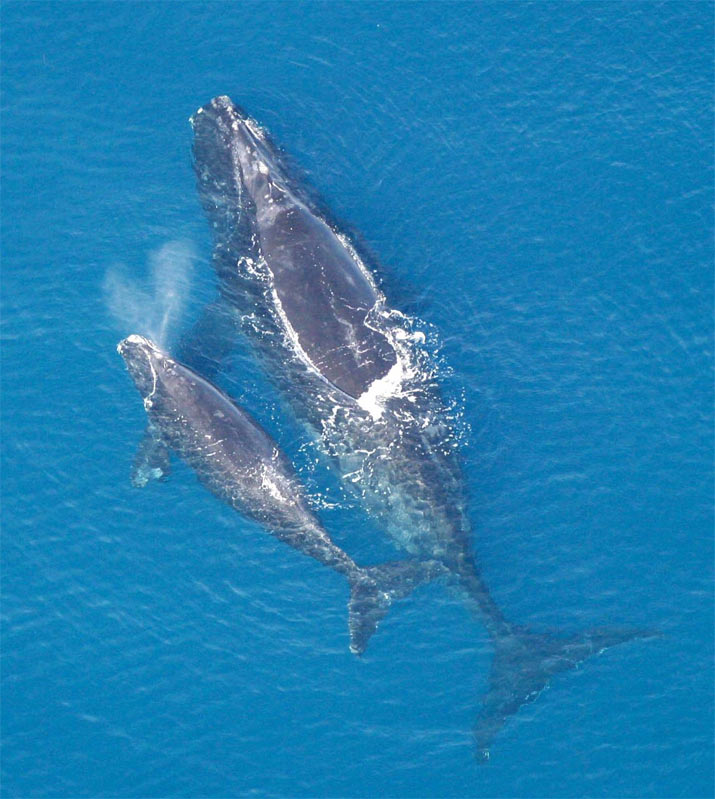 Scientific Name:
Eubalaena glacialis
Description:
The North Atlantic right whale (Eubalaena glacialis) has a large head that takes up nearly a quarter of the length of its body. Right whales, which can grow up to 18 metres in length can be recognized by:
their wide tail flukes and narrow tail stock, large flippers and lack of a dorsal fin;

their skin is black and some individuals have white patches on the throat or belly;

rough white patches of skin called callosities on their head, chin, and sometimes on the edge of their lower lips. Each whale's callosity pattern is distinctive, enabling scientists to recognize individual whales.

Photo Gallery:
(Please note — these photos are unverified images submitted by members of the CWF Photo Club.)

Range:
Nova Scotia, New Brunswick
Lower Bay of Fundy, east of Grand Manan Island, Roseway Basin between Browns and Baccaro banks
Behaviour:
North Atlantic right whales are primarily found in coastal or continental shelf waters, although they have been known to move over deep waters. They follow the migrations of their food source, moving north in the summer and south in the winter.
Primary Ecosystem Roles:
They feed on copepods and krill larvae by slowly swimming through patches of prey with their mouth open at or below the ocean's surface, a behaviour known as "skimming."
Status:
Endangered
Notes:
North Atlantic right whales are huge, reaching 18 metres for females and 12.9 metres for males, and can weigh up to 96,000 kilograms. These big whales eat the smallest foods, but with their huge appetite they can eat between 1,000 and 2,500 kilograms of copepods and krill every day.
More on this Species:
References:
http://www.dfo-mpo.gc.ca/species-especes/profiles-profils/rightwhaleNA-baleinenoireAN-eng.html
IUCN (International Union for Conservation of Nature). 2014. The IUCN Red List of Threatened Species. Version 2014.3. iucnredlist.org. Downloaded on 28 November 2014.
---