By Terri-Lee Reid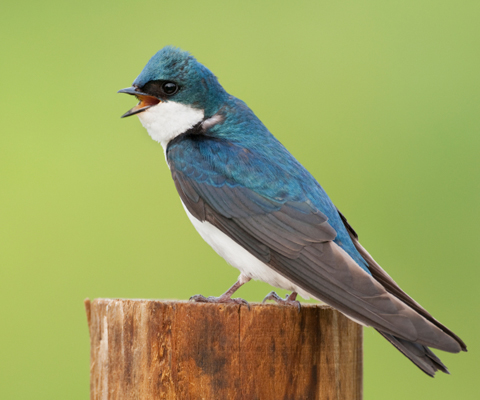 Q. What sort of birds should I be trying to attract to control mosquitoes and wasps?
A. To diminish mosquito populations, attract birds that eat insects on the wing (catch flying insects in the air). The main ones are swallows such as the tree swallow, violet-green swallow and barn swallow. The eastern kingbird also catches flying insects.
Many other insect-eating birds – including chickadees, house wrens, gray catbirds, bluebirds, vireos, warblers, orioles, tanagers and even some sparrows such as the chipping sparrow – can help to control wasps and, possibly, mosquitoes. Even some seed-eating birds can help control mosquitoes, since this is what they feed their young in the spring.

By maintaining a bird-friendly backyard, the birds you attract will help reduce insect problems, although they won't wipe them out completely.
To attract birds, you need to meet their needs for food, water, shelter and space. The greater the variety of trees, flowers and shrubs in your garden, the more types of birds you'll attract. Insects will be drawn to native wildflowers and berry- or fruit-producing trees and shrubs (such as cherries, bayberry and currants), which in turn will attract many of the songbirds that eat insects as well as berries and other fruit. Winter feeding stations that provide sunflower seeds and suet will also help to attract some insect eaters.

Some birds, such as the tree swallow, bluebird and chickadee, will use man-made nesting boxes. Many others require natural nesting sites in coniferous trees, deciduous trees or shrubs.