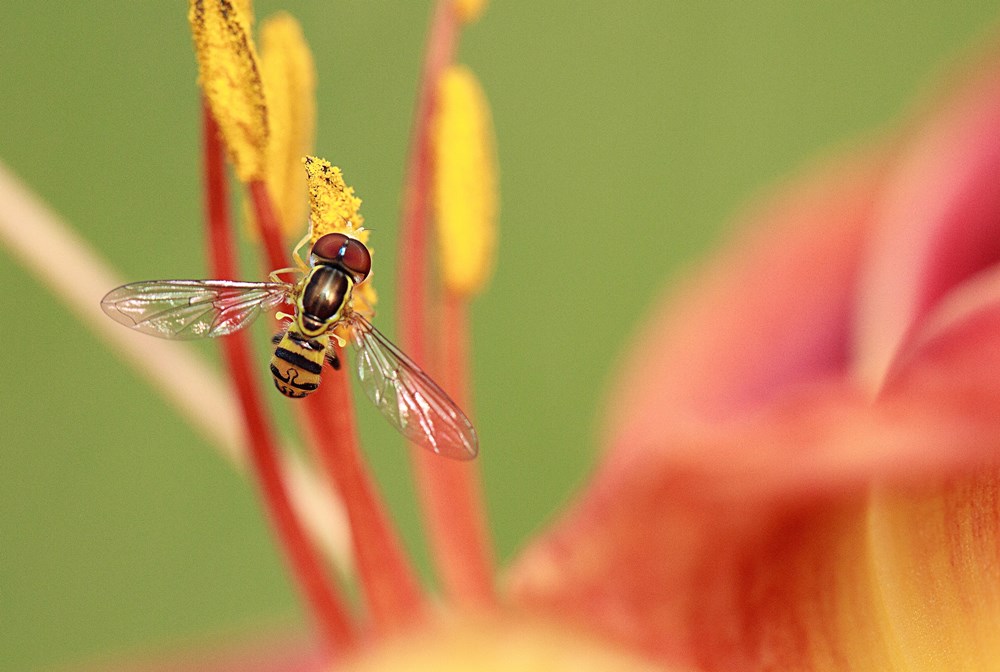 Scientific Name:
Syrphidae Family
Classification:
Kingdom: Animalia Phylum: Arthropoda Class: Insecta Order: Diptera Family: Syrphidae
Other Common Names:
Flower fly, Syrphid fly
Description:
This very large family has great variation in looks. The most commonly seen ones, however, tend to be approximately 8–12 mm long with yellow and/or orange and black on the abdomen. All members of the Syrphidae family have a distinctive squiggle or false vein (spurious vein) running through the middle of the wing.
Similar Species:
Due to their colouration, adult hover flies are sometimes mistaken for bees or wasps, part of their means of self-protection from hungry predators. But there is no need for humans to fear them as they are flies and don't have stingers. There are many species with varying patterns, and some even have fuzz, but you may be able to tell them apart from bees and wasps by looking at their eyes, which are very fly-like with many little segments (unlike bee eyes, which have a very solid dark appearance).
Hover flies also have one set of wings where bees and wasps have two, although they're not always easy to see as the forewing and hindwing are so close together. A wasp's and bee's antennae are noticeable, and bee legs have a place to store pollen, two other features to help tell them apart. Another difference is that wasps have narrower waists than hover flies.
Photo Gallery:
| | | |
| --- | --- | --- |
| Photo by: Marjolein Heuff | Photo by: Lu Zhang | Photo by: CWF |
| Photo by: CWF | Photo by: CWF | Photo by: CWF |
| Photo by: CWF | Photo by: CWF | Photo by: CWF |
News:
Tweets about "pollinators"
Range:
Widespread distribution across Canada.
Habitat:
Hover flies can occur anywhere there are pollen and nectar rich plants.
Diet:
Adults feed on a wide variety of pollen- and nectar-rich blooms. Some larvae eat decaying plant or animal matter while others prey on garden pests such as aphids.
Behaviour:
These day-flying insects are neat to watch in motion. They can hover in place, like a hummingbird, and zoom around in all directions.
Primary Ecosystem Roles:
Important pollinator
Insect control (some larvae are predatory)
Status:
(verified February 10, 2014)
COSEWIC: Not assessed
Nature Serve: No records
NOTE: While these assessment organizations do their best to stay current, the process of assigning or updating a species status may take a while to reflect real life changes.
Threats and What You Can Do:
Although this is a fairly common species and not currently at risk, you can plant native flowers such as roses, sunflowers and serviceberries in your garden to help support hover flies and other pollinators.
More on this Species:
References:
How to know the Insects. Third Edition. Bland, Roger G.; Jaques, H.E., 1978. WCB/McGraw-Hill. United Sattes of America.
Insects: Their Natural History and Diversity. Marshall, Stephen A., 2006. Firefly Books Ltd. Richmond Hill, Ontario.
The Xerces Society Guide Attracting Native Pollinators: Protecting North America's Bees and Butterflies. Xerces Society Guide, 2011. Storey Publishing. North Adams, Massachusetts
http://www.discoverlife.org/mp/20q?search=Syrphus+ribesii&guide=Syrphidae

http://www.entomology.ualberta.ca/searching_species_details.php?s=5835

http://eol.org/pages/750857/overview

https://seeds.ca/sw8/web/pollination/pollinator-profiles/flies

http://www.canacoll.org/Diptera/Staff/Skevington/Syrphidae/Syrphidae.htm

http://www.canada.com/vancouversun/news/westcoastnews/story.html?id=ff80bbc6-6f45-4c06-9729-449d46628573

http://www.pbase.com/laroseforest/toxomerus

http://www.pbase.com/laroseforest/eristalis

http://www.pbase.com/laroseforest/image/114449612
---