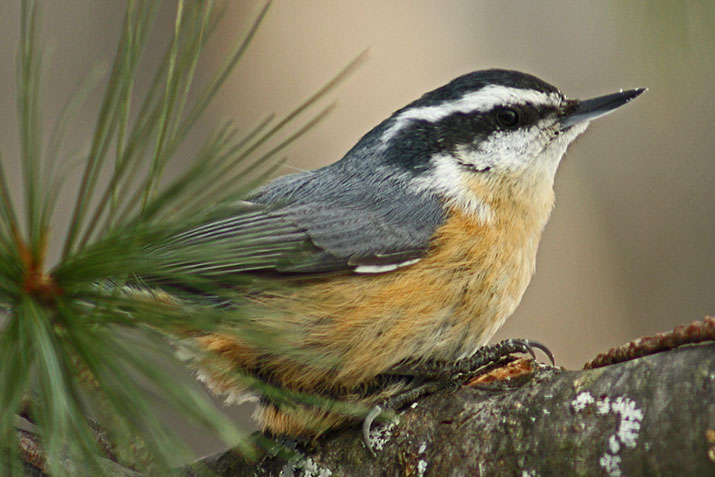 Scientific Name:
Sitta canadensis
Description:
Red-breasted Nuthatches are small birds reaching about 4.5 inches in length with a thin black bill and short tail. They have a black and white striped head, white throat, grey back and rust-coloured belly.
Similar Species:
The white-breasted nuthatch (
Sitta carolinensis
), is a bit larger, almost reaching 6 inches in length and have a black cap, grey back and all white below except for a bit of rust by the tail.
Photo Gallery:
(Please note — these photos are unverified images submitted by members of the CWF Photo Club.)

Range:
Northwest Territories, Nova Scotia, Manitoba, New Brunswick, Newfoundland, Quebec, Saskatchewan, Yukon Territories, Nunavut, Ontario, Prince Edward Island, British Columbia, Alberta
They are found year round in all the provinces (in all areas of western and eastern provinces and the central and southern areas of the central provinces). Their winter range includes the prairies and their summer range occupies the northern reaches of most provinces and the southern portions of the Yukon and the Northwest Territories.
Habitat:
They prefer coniferous trees but can also be found in mixed woods.
Diet:
These songbirds glean insects and spiders from tree bark. In the winter they eat seeds and nuts such as those from fir, spruce, beech and oak trees. Red-breasted Nuthatches visit feeders with suet and/or sunflower seeds.
Behaviour:
As with other nuthatches, the Red-breasted Nuthatch can move up, down and around on tree trunks however they tend to perch on branches more than the White-breasted Nuthatch. They nest in holes they make themselves in trees, including dead standing trees (snags) and rarely use previously excavated holes or nesting boxes.
---