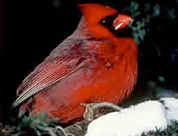 Scientific Name:
Cardinalis cardinalis
Description:
The northern cardinal is a medium-sized songbird, with males slightly larger than females. Males are bright red with a black mask around their red bill and a prominent crest on the top of their head. Females are olive brown with red on their wings, tail, and crest, and a red bill. Juveniles are similar in colour to females but have a black bill and a shorter crest.
Colouring plays an important role in the lives of male northern cardinals. Males that are brighter red are more successful than their paler counterparts. They have greater reproductive success, get ranges with better food supplies, and are able to feed more frequently.
Photo Gallery:
(Please note — these photos are unverified images submitted by members of the CWF Photo Club.)

Range:
The northern cardinal's range has been increasing over the past 200 years. It can now be found as far west as Manitoba and east into the Atlantic provinces, including Newfoundland and Labrador.
Habitat:
The northern cardinal doesn't migrate. Instead it stays in its territory year-round. It makes its home in thickets and brushy areas and at the edges of woodlands.
Diet:
The diet of the northern cardinal consists mainly of insects and vegetable material. Vegetable material may include weed seeds, leaf buds, grains, and berries.
Behaviour:
Northern cardinals mate for life, so if you see one its mate usually isn't far away. The female builds a nest in a dense thicket, shrub, or tree and lines it with twigs, weed stems, grass, bark, and leaves. In this nest she lays three to four light green eggs with brown speckles. With help from the male, the female incubates the eggs for 12–13 days. Once the young are able to fly, the male watches over them while the female begins a second brood. They typically have two or three broods, but can occasionally have four in warmer climates.
---
Photo: US Department of Fish & Wildlife
By Terri-Lee Reid
You can attract the northern cardinal to your backyard by planting native berry-producing shrubs and trees, such as cherry, hackberry, dogwood, and serviceberry. These plants provide the cardinal with food and a place to nest and raise its young. Wildflowers and other insect-attracting plants can help ensure a good supply of insects to eat. You can supplement the cardinal's natural diet by offering black-oil sunflower seeds in your bird feeders.
The northern cardinal sings at least 28 different songs throughout the year, so attracting these birds to your garden will allow you to enjoy not only their vibrant beauty but also their melodious serenading. The northern cardinal also plays an important role in seed dispersal and the control of pest insect populations.