February 22, 2019
By April Overall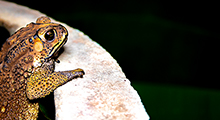 Want to make your garden work overtime? Put some beneficial critters to work while you snooze the night away. Bats, toads and night-flying moths are incredible allies to have on your side if you want your backyard to look its very best.
Bats
Trust me, you'll want these winged friends in your garden. Particularly if you want to keep pesky bugs at bay. In one night, a single bat can eat up to its own body weight in insects. They'll nosh on beetles, moths and the true troublemakers in your backyard – mosquitoes. If you'd like to help attract bats to your garden, a good place to start is to offer them native plants that will attract insects. From blooms to shrubs, there are plenty of native plants that will encourage insects (that bats particularly find tasty) to your property. Why not pop over to your local nursery when the weather starts to warm up and look out for fragrant night bloomers like Bittercress, Four-o'clock, Fireweed, Goldenrod, Phlox, Wild Sweet-William, Bachelor's-buttons, and Cardinal Flower.
Toads
Toads are another animal you'll want to attract to your garden. In a single growing season, a toad can chow down on over 10,000 bugs. Their favourite bugs to snack on? Earwigs, slugs, gypsy moths and sow bugs. What amazing allies for your garden! Be aware that if you keep your lawn trim and immaculate, you probably won't see any toads hanging about. They prefer shady and damp spots like a toad home, which you can make yourself!

How to make your own toad home
Use an old clay pot about 20 cm in diameter.
Make an entrance by gently knocking a semicircular section 8 cm wide x 4 cm high out of the edge of the pot.
Place the pot upside down in a shady spot near a source of water.
Night-flying Moths
Most pollinators do their busy work during the day, but not night-flying moths! There are thousands of moth species in Canada, from the Luna Mother to the Gypsy Moth. You'll find many of these remarkable pollinators flying from one bloom to another after the sun goes down. You might wonder how in the world they're able to find the flowers in the first place. They look for very pale flowers in whites or light greens that might stand out against the dark sky. These flowers also often have a potent sweet scent that lures moths, like Evening Primrose. Not only do these moths make wonderful pollinators, they're also important sources of food for other benefical nocturnal animals like bats and toads!