With fall coming to an end, it's almost time to pull your parka and winter boots out of storage. But don't forget that your garden also needs to be prepped for winter! Now is a great time to get outdoors, enjoy the fleeting warmth, and prep your garden for a full bloom in spring.
Are your gardening gloves ready? Let's get started!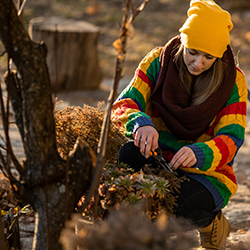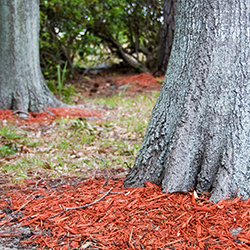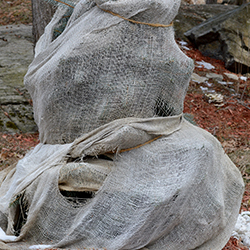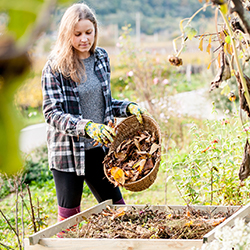 Remove annuals – but not perennials!
Clean up your garden by pulling out any vegetable plants or annual flowers that won't survive the winter. You should also remove the foliage and stems of any diseased plants to avoid recurrence, but be sure not to compost them! If your perennials are healthy, avoid trimming or dividing them until spring to provide shelter and a possible source of seed for birds.
Protect your plants
Plants need a little extra care in the winter:
Bring potted plants inside or bury them in the garden soil.
Fruit trees, cedars and other evergreens should be wrapped in burlap to help minimize damage from snow, salt and ice.
Tall raspberry and rosebush canes should be cut down to about 1.5 metres to protect them from harsh winter winds, while climbing roses will need to be covered or laid down.
Build up the base of tender plants with about a foot of earth to protect their roots over winter.
Once the ground has frozen, add 15 to 20 centimetres of mulch around plants to protect them from temperature fluctuations.
Mow your leaves
No, you didn't read that wrong! As long as the leaves in your yard aren't diseased, you can mow them along with your grass. This shreds the leaves into small pieces that will soon decompose, returning valuable nutrients to the soil.
Mulch around trees
Still have leftover leaves? Or don't feel like mowing them? Leaves make excellent mulch around trees, and they can provide a safe, warm space for hibernating critters. Spread a carpet of leaves under a tree to form a protective layer, but be sure not to mulch right up to the trunk of the tree – this retains moisture and encourages disease. Take a look at our website for more ideas on what to do with all your leaves.
Compost
Do you have leftovers from removing annual flowers and vegetable plants? Are any stray leaves still hanging around? Compost them! If you want to speed up decomposition, consider rotating the contents of your compost before the snow comes to introduce oxygen. You can find plenty more composting tips on our website.
Prep bird feeders
Winter is a beautiful time of year to birdwatch! To help birds this winter, give your feeders a good cleaning before the snow arrives, and fill them with quality bird seed, such as CWF's Songbird Medley.
Did we miss any tips? Leave a comment below and tell us how you prep your garden for winter!