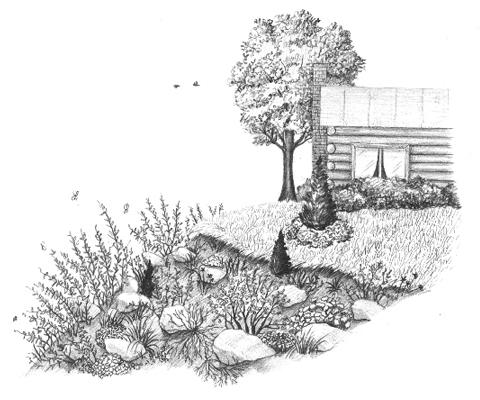 Background
When you cover sloping areas with vegetation that is attractive to wildlife, you also help to prevent soil erosion. Plants protect the earth from elements like strong winds and rain. Consequently, soil is less likely to erode if there are plenty of plants growing in it.

Procedure
If part of your property is eroding, here are some tips on getting the problem under control:
• Plant erosion-stopping vegetation. Willows, for example, are ideal plants for this purpose. They germinate quickly and easily and have dense, fibrous root systems.
• Don't depend on one species of plant. Diversity is always best.
• Plant legumes. They foster plenty of beneficial microorganisms that help create healthy soil.
• Combine grasses and legumes to protect soils and provide nectar for bees and butterflies.
• Use trees and shrubs, such as raspberry and dogwood, to protect slopes prone to erosion and provide important food and cover for wildlife.
• In addition to vegetation, you can arrange chunks of rock to resemble natural outcroppings on a slope. Set these rocks one-half to two-thirds into the ground to help anchor the soil in place.

Maintenance
• Water the plants regularly until they're well established. Continue to water them during dry spells.
• Remember to protect the plants from animals or human activity with a fence or other barrier.
• Check the vegetation regularly for signs of disease or insect infestation.
• See "Plant Project Maintenance Tips" for further suggestions.