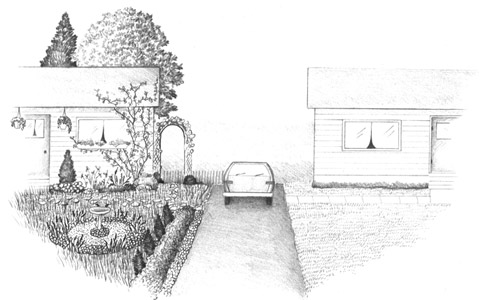 Background
Besides offering a wonderful fragrance and a breathtaking sight, a native wildflower meadow is a magnet for wildlife. It provides nectar, food, and cover for birds, insects, reptiles, amphibians, and a host of small mammals.

Consider transforming your entire backyard or front lawn into a wildflower meadow - and kissing your lawnmower goodbye! If you're not ready for such a drastic step, you can still fill a smaller portion of your property with wildflowers. With a little luck, you'll start a new trend in your neighbourhood.

Procedure
• In spring or fall, till the area 15 cm to 20 cm deep.
• If you choose to begin the project in fall, plant heavily with buckwheat seeds after tilling. Rake the buckwheat under before the seeds set - that is, before the fresh, tender sprouts grow taller than 15 cm - two to four weeks after planting. Immediately reseed with another crop of buckwheat, also tilling it under before the seeds set. Let the area sit for the winter. This technique, known as green manure, gives the soil nutrients that allow wildflowers to grow thicker than they would in the wild.
• After spring thaw, cover the tilled area with heavy black plastic for two or three weeks so that the weed seeds will germinate and die. This method is only practical for smaller areas.
• Remove the plastic and plant your wildflower seeds. Use native species adapted to your region.
• You can skip the green manure technique if you wish. If so, you should till the earth in the fall, put the black plastic covering down in the spring, and then plant the native wildflower seeds.
• After seeding, mulch the planted area very lightly and tamp it down.
• Do not add fertilizer.

Maintenance
• Water the area regularly until the plants are well established.
• Weed out undesirable growth.
• Mow or cut your mini-meadow in late fall to boost reseeding.
• Be patient! It may take two seasons before some wildflower species come into bloom.
• See "Plant Project Maintenance Tips" for further suggestions.