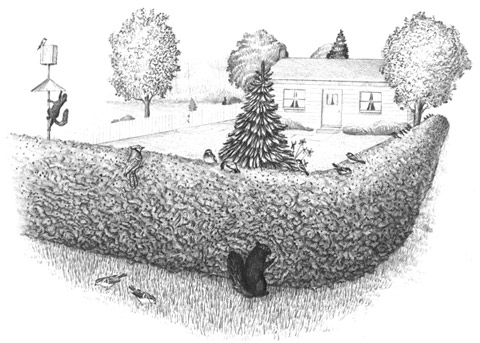 Background
A fruit-bearing hedgerow is a row of thick, bushy plants that provides wildlife with shelter and a passageway to get from place to place - preferably with snacks along the way. Any bushy plant will make a good hedgerow, but the best type is one that bears fruit. A hedgerow makes a yard both private and beautiful; it will also attract birds to your feeder, and pollinators to your garden.

Hedgerows and fence rows can even attract the natural enemies of certain pests you may wish to eliminate from your backyard. For example, by planting a hedgerow with fruit that appeals to insect-eating animals, you can help control bugs that would otherwise make short work of your vegetable garden.

Hedgerows also act as small windbreaks, protecting soil from erosion and reducing the loss of moisture from the earth. A thick hedgerow can slow down or even stop the flow of water between two areas by helping the soil soak up moisture.

Procedure
• If you have a large enough lot, design a hedgerow for your backyard.
• Make a list of shrubs and trees that will attract wildlife and grow well in your area.
• Map out your property. Measure the border area where the hedge will stand. It should be at least 3 m wide when fully grown. Mark the measurements on your map.
• Estimate how much space each plant will require. You may have to check with a nursery or do a bit of library research. Close spacing between plants (but not too close) is best. That way, it will take less time for the hedge to grow thick.
• Plot on the map where the plants should be placed, using a legend with a different symbol for each variety of shrub or tree. Determine how many of each type will be needed for your hedgerow.

Maintenance
• Water the shrubs and trees in your hedgerow regularly until they're well established.
• Replace dead or diseased plants as needed, and weed out undesirable vegetation.
• See "Plant Project Maintenance Tips" for further suggestions.