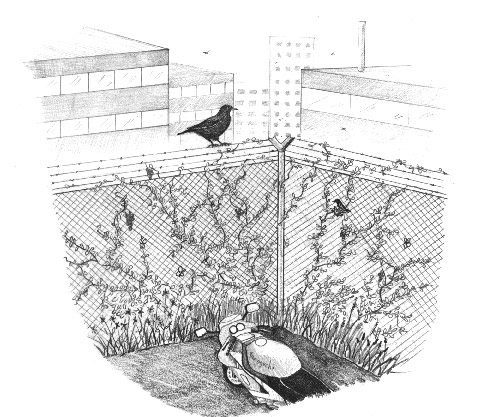 Background
Even in a paved city lot with scant space, you can create habitats that attract insects, birds, and small mammals.

Procedure
• Dig up a strip of asphalt along your yard fence. A 15-cm-wide strip of earth will be enough to make a difference for wildlife.
• Plant climbing vines such as scarlet runner beans, grapevine, virgin's bower, bittersweet, or dropmore scarlet trumpet honeysuckle vine. These species will give wildlife a boost with their berries and blooms. Birds often nest in the leafy cover provided by grapevine and Virginia creeper.
• Be patient. It will take time before wildlife discovers your sprouting habitat. Your downtown edge may only attract beetles and spiders, but it's still an important habitat.

Maintenance
• Water the plants until they're well established, and after that only during dry spells.
• Weed the edge habitat regularly.
• See "Plant Project Maintenance Tips" for further suggestions.