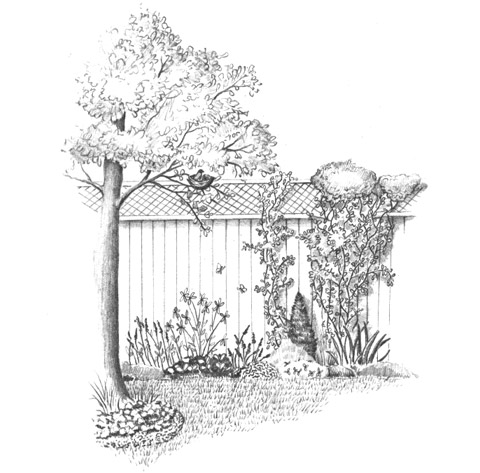 Background
A fence row is any fenced border around a lot. Whether it's used for privacy or to keep pets out of trouble with neighbours, a fence row is a great place to plant for wildlife.

Fence rows, like hedgerows, can attract the natural enemies of certain bugs you may prefer not to have on your property. They also act as small windbreaks, preventing soil erosion and reducing moisture loss from the earth.

Procedure
A fence row can be easily improved for wildlife. Here's how:
• Avoid mowing too closely and allow grass to grow freely in a wide strip alongside the fence row.
• Plant vines here and there to provide a greater variety of food and shelter.
• Scatter some shrubs or a few trees along the fence row to attract wildlife.
• To reduce erosion from wind and water, white cedar is a good species to plant alongside a fence row. It also provides important cover for songbirds and game birds, and food and shelter for rabbits and hares. White cedar is available in most parts of the country, except for the Prairies.

Maintenance
• Weed the fence row habitat regularly.
• Replace dead plants as needed.
• Water the new shrubs and trees along your fence row regularly until they're well established.
• See "Plant Project Maintenance Tips" for further suggestions.