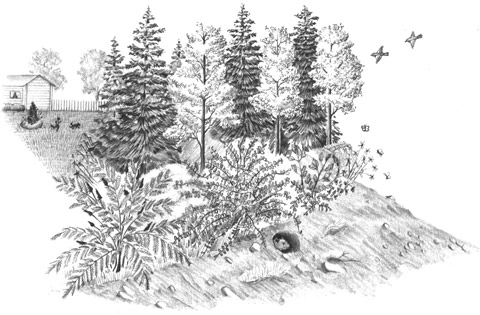 Background
Block plantings are several rows of trees and shrubs planted parallel to each other. They are especially appropriate for backyards prone to erosion problems.
Procedure
Find a spot on your property that could benefit from a block planting. Decide what to plant and draw a map showing where the planting will go on your lot.
When you plant trees in rows, follow the natural contours of the land. Give the rows a gentle curve; this will help protect wildlife from predators and the elements.
From the end, your block planting will resemble a pyramid. Low-growing species (such as shrubs) should be planted in the outside rows, and taller species (such as spruce trees) should be planted in the centre. This design provides a variety of nesting and perching heights for birds.
Incorporate existing landscape features such as trees, streams, and rock piles, into your planting design.
Maintenance
Water the shrubs and trees until they're well established, and then during dry spells.
Replace dead plants as necessary, but leave mature snag trees standing as potential nesting sites for wildlife.
See "Plant Project Maintenance Tips" for further suggestions.