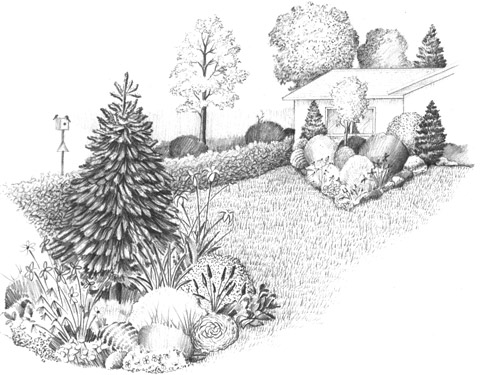 Background
Clumps (clusters of trees) and thickets (dense bushes) provide important edge habitat for wildlife. Rabbits, for example, will be attracted to habitat where brush and meadowland meet because of the wide selection of food and shelter found along the edge.
Clumps and thickets help stabilize the soil to prevent erosion. They're also good spots for humans to peek at visiting wildlife. If you have enough space, you may be able to plant a clump or thicket in your backyard.
Procedure
Clumps:
Start a clump by planting one or more coniferous trees in the centre. The more trees you plant in the centre, the bigger your clump will be.
Leave a 2 m space between trees.
Surround the trees with one or more rings of shorter shrubs, with a 2 m space between rings.
Improve an existing clump by planting dense, bushy plants and shrubs around it. You can also add coniferous trees or shrubs if none have been planted yet. Coniferous species will provide important winter cover when other trees and shrubs lose their leaves. See "Plants for All Seasons" for more suggestions on suitable plants for a clump.
Thickets:
Thickets are easy to create. Start with a tall, central shrub or even a small tree.
Surround it with closely spaced bushy shrubs to ensure dense growth.
Red raspberry and other prickly plants, such as brambles, make excellent hiding places for rabbits, squirrels, and groundhogs. See "Plants for All Seasons" for more suggestions on suitable plants for a thicket.
The fruits of wild shrubs are popular among wildlife and humans. Red raspberry, blackberry, grape, highbush cranberry, blueberry, and elderberry are some of the many delights you can grow.
Shaping:
Both the shape and arrangement of clumps and thickets are important. Design your plantings in irregular shapes, triangles, circles, or long, thin rectangles. These patterns will please discerning wildlife by providing as much edge as possible.
Animals may ignore clumps or thickets if they are not accessible by safe routes. Be sure that travel lanes such as hedgerows, fence rows, or forest edges are available nearby. Alternatively, you can create a trail of brush piles to connect your clump or thicket to other more distant cover.
Maintenance
Check clumps and thickets in spring and fall for tell-tale signs of disease or ravenous bugs.
Replace any dead or dying plants.
Trim branches to encourage the growth of thick, dense cover and browsing spots for plant eaters such as rabbits.
See "Plant Project Maintenance Tips" for further suggestions.