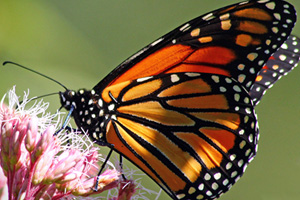 When writing about wildlife or covering wildlife issues the Canadian Wildlife Federation makes the job easier.




April 9, 2020
Love Your Lake Program Celebrates Expansion
Watersheds Canada and the Canadian Wildlife Federation (CWF) are celebrating another successful year of their Love Your Lake program as it expanded to British Columbia in the summer of 2019.

April 2, 2020
CWF Asks Canadians to Grow It Don't Mow It
Recent reports from Mexico show a large decline in overwintering Monarch butterfly populations, just as the Canadian Wildlife Federation (CWF) launches a new campaign encouraging the natural growth of wild flowers and native meadows to restore habitat for Monarch and other pollinators in decline.

March 17, 2020
COVID-19 Update
Canadian Wildlife Federation (CWF) remains open online and on the phone to help with questions you have or services you need from CWF. That said, to help reduce the spread of nCovid-19 our staff is now working remotely to keep our services available and vital conservation work being delivered.


January 16, 2020
Canadian Wildlife Federation Expands National Conservation Education Programming
The Canadian Wildlife Federation (CWF) is pleased to announce the unprecedented expansion of two unique service programs designed to develop and inspire conservation leadership in Canadian youth ages 15 to 30. The two programs – WILD Outside targeting youth ages 15 to 18, and the Canadian Conservation Corps for young Canadians ages 18 to 30 – are made possible with newly extended funding from the Government of Canada through its Canada Service Corps initiative.

October 24, 2019
Canada's Bats Face Growing Threat
Hibernating bats may be storing pesticides from contaminated insect food in their flesh over winter, lowering their immune systems and putting them at greater risk of disease and death, says the Canadian Wildlife Federation (CWF).

August 29, 2019
Slow Down and #HelpTheTurtles
"CWF's Ottawa team collected and incubated over 600 Blanding's, Northern Map and Snapping turtle eggs in the Ottawa area this year," said Rick Bates, CEO. "The release of these hatchings back to the areas where they were found is part of CWF's comprehensive turtle conservation program, which is also working to help mitigate the impact of road mortality on at-risk turtles in Eastern and Central Ontario. In road surveys conducted the last two years in the Ottawa-area, over 1,000 dead turtles were found. These included over 100 Blanding's Turtles, a threatened species in Ontario."