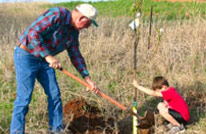 The Canadian Wildlife Foundation hosts a wide array of programs, events, campaigns and activities that will give you and your organization exposure to a large donor base, corporate and community leaders, leading philanthropists and government officials.
There are many levels of sponsorship that offer unique opportunities for corporate involvement. We can also work with you to create a customized sponsorship package to best suit your objectives.
Contact us today to discover our wide range of sponsorship opportunities.
David Hillary
davidh@cwf-fcf.org