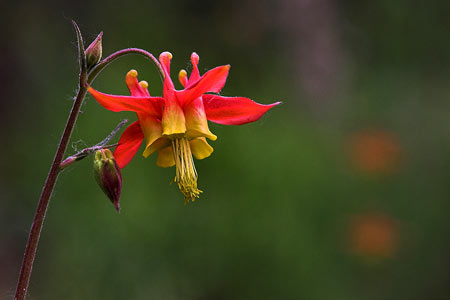 When visiting your local nursery for some new plants this year, keep in mind these five tips for bringing home plants that are not only beautiful but highly beneficial, too.
Variety
Having different types of plants, blooms, heights and textures is not only pleasing to the eye but it will also support a greater diversity of life.
Vines along a fence add more spaces for wildlife to live. For instance, small birds may use a vine for nesting and escaping predators and the hot sun. Beneficial insects may also find refuge in a vine.
You can create a mini forest on the ground in an out-of-the-way corner of your garden with some longer grass, ferns and plant of similar heights densely growing together. This provides great cover for small animals like frogs, toads, birds that feed and/or nest along the ground, small mammals, beneficial insects and spiders. Even fireflies need some longer grass as part of their habitat!
Shrubs and trees are an attractive backdrop in any garden. Consider planting a mix of deciduous (those that lose their leaves in the fall) and evergreen (those that keep their leaves year round) shrubs or trees. Together they will provide food in the form of berries, nuts and seeds and will shelter animals from predators and the elements.
Nature doesn't waste a thing, so even dead or dying trees are a crucial part of our ecosystem. If it is safe to do so, leave these trees standing. Many of our bird species need these trees for nesting, escaping predators and roosting (sleeping). Bats will even live in cracks of larger trees.

Grow plants with different flower shapes to suit the different shapes and sizes of our pollinators. For instance, long tubular flowers like native lilies and penstemons suit hummingbirds, hummingbird moths and bee species with long tongues. Short tubular or open flowers like verbenas, asters, wild roses and sunflowers are perfect for short-tongued insects like small bees and flower flies.
Have plants that bloom at different times, from early spring to late fall for the many species of insects that need pollen and nectar.

Poison in Plants

Avoid plants grown with neonicotinoids (neonics) as the pollen and nectar from these plants can seriously harm pollinators, even if the pesticide was only used on the seed. Read the label or ask nursery staff or watch for CWF's Medallion Plant Packs at Home Depots across much of the country this May.

Native Plants

Where possible, include some plants native to your area as they coevolved with wildlife over the centuries and are often their perfect food. There are so many beautiful and easy-to-grow species like coneflower, Bee Balm, Liatris and columbines.

Invasive Plants

Avoid invasive plants that can spread beyond the garden and eventually push out native plants which are an important food source for animals. Some examples include Garlic Mustard, Common Periwinkle, Asian Bush Honeysuckles, Glossy Buckthorn and Purple Loosestrife.

Over Cultivation

Avoid plants that have been bred for showiness and as a result have little or no nectar or pollen or their petals make it hard to get to the food.

Learn more about gardening for wildlife at Canadian Wildlife Federation.