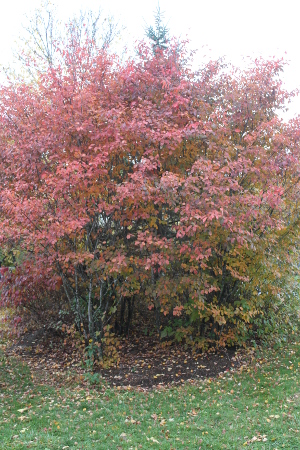 Fall is a great time to scrutinize your garden. Look for overcrowded, barren, or other unsatisfactory areas that need improving. If planting can wait until next spring, a little soil enrichment now will encourage healthy growth later on.
Here are some hints for maintaining and enhancing your garden in fall:
Take preventive measures
Trees, especially evergreens, continue to lose moisture in winter. Lack of water is one of the main reasons why evergreens sometimes turn brown in spring. It is important to deeply water trees and shrubs before hard frosts begin.
Divide overgrown perennials to promote healthy growth.
Clean woody debris and fallen leaves out of ponds.
Move your potted plants indoors or bury the pots in the ground so they can survive the winter.
Set out traps for slugs, which breed in fall. Make a tantalizing trap by filling an empty tuna_fish tin with beer. In a shady spot, place the dish in the soil so the rim is at ground level. Every few days, empty out and refill the trap. Use this method only if absolutely necessary as it can also drown beneficial creatures.
Enhance garden soil
Mother nature generously provides us with a free source of soil nutrients in the form of fallen leaves. Take advantage of this gift by using leaves raked off your lawn to build up soil nutrients in planting beds. Once the ground freezes, tender perennials can be protected with a deeper mulch of leaves. Store excess leaves in loosely closed bags and add them to your compost pile in batches.
Apply a thin layer of compost or well_aged manure to your lawn.
Consider planting a cover crop-such as annual rye grass or clover-in bare beds or vegetable gardens to improve the soil. After the final harvest, but early enough to allow some growing time before hard frost, enrich the soil by adding compost or well_aged manure, then seed with the cover crop. In spring, till the plants under a few weeks before planting.
Add annuals and potting soil from finished planters to your compost pile.
Winterize for wildlife
Fall is a good time to maintain bird feeders and baths to fuel migrators with food and water.
If your plants are healthy, leave the cleanup of perennials until next spring-dead stems trap snow and provide seeds for birds.
Wrap the trunks of young trees and shrubs and ensure that mulch is at least 30 centimetres away from their base to protect them from hungry rodents. Burlap around evergreens will shelter them from wind, sun, and grazing animals.
Fall is the perfect time to pest-proof your house against wildlife. Once you have ensured that intruders are gone, seal entry points to your attic or chimney.