<!-\\Default - single specific -->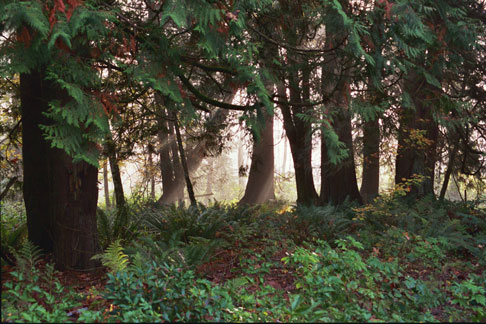 Photo: Simon Hart
By Sarah Coulber
It's been over a year since Simon Hart bought his Mission, B.C. property. In that time, he's vigorously applied his knowledge and passion in caring for the land all the while preparing to build his new home.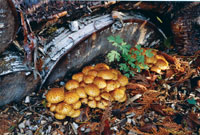 Letting nature do its thing: decomposing paper birch with fungi
Photo: Simon Hart
Simon recalls seeing the land for the first time. Although once used as part of a hundred acre family woodlot, "it was easy to see that it had been left in a natural state for a very long time", says Simon. Its large stand of mature second growth forest was carpeted with native plants such as sword and bracken ferns, salmonberry, elderberry and a rich variety of moss and fungi. Like icing on a cake, 600 feet of the property fronts a creek which is home to salmon and at least one great blue heron.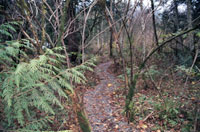 Simon's woodland trail
Photo: Simon Hart
Walking through these woods immediately captivated Simon. With its rich plant and animal life, he remembers thinking to himself "it would be a privilege to manage this property and work with nature when building my home."
It is this attitude that has guided Simon in clearing a small portion of the land with utmost care. He removed ferns and moss from the building site and replanted them elsewhere on the property, often in impacted areas such as old skidder trails once used to get cut trees to the road. And soil from the building site has been put in garden beds that he has made.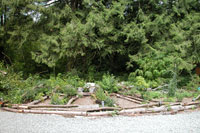 Raised blueberry bed
Photo: Simon Hart
These beds also contain wood chips from trees that had to be removed for the house and septic field. Some beds are framed with naturally fallen cedar logs while others are lined with rocks from the building site. His garden beds also use coconut coir, rather than peat. As peat is a slow forming material in bogs habitats which are becoming increasingly threatened coir is an alternative which is growing in popularity. Although more expensive than peat, prices are dropping as the interest in coir increases.
The road frontage is along a major highway and is likely the cause of the invasive species Simon has noticed, such as Himalayan blackberry and orange hawkweed. To remedy this, he hand weeds his 500 foot driveway and surrounding forest four times a year. All weeds are then put in a pile that will compost down and act as a free soil amendment and fertilizer.
As the weeds come out, Simon replaces them with native trees such as big leaf maple, western yew, Douglas fir, western dogwood and sitka spruce. These trees are surrounded with plants from the building site and with "coarse woody debris I am going to let rot into the ground", explains Simon. That will help return nutrients to the earth, but will also help retain moisture. This is an important point for Simon who hand waters all newly planted trees and plants. There are over 200 in total including 50 blueberries around the property which is a little less than three acres!
Simon Hart and his carefully woven path before shrubs are planted along its length
Photo: Tanya Slautina
As to the house being built, it also reflects Simon's dedication to the environment. It will have geothermal heating using heat from within the ground - with added efficiency from a new green sprayfoam insulation that doesn't give off any hazardous by-products. This will nearly double insulation value minimums for local building code. Rain water will be collected from the steel roof with a planned 4,000 gallon storage capacity. The idea is to release this into the garden, allowing gravity to move it along and water garden beds. Native plants that are established won't require supplemental watering. In addition, Simon hopes to build a small greenhouse with passive solar heating that involves a heat sink device that pipes warm air into the floor of the greenhouse to radiate heat. A forest path that Simon created follows natural contours and was made such that he and his dog could enjoy the forest grove while having minimal impact on the landscape.
Snake sunning on rockery
Photo: Simon Hart
Until these branches rot down to nourish the earth, they will provide a home for wild neighbours
Photo: Simon Hart


Simon also wants to enhance the land and increase habitat for local wildlife. He has placed large chunks of paper birch and cedars in strategic areas as habitat improvements for beneficial insects and hopefully amphibians. "I also have three large piles of stumps which I have positioned for large scale habitat condos." The rocky area at the entrance of the property will be amended as there is good sun exposure which, along with rock piles, is perfect for garter snakes and northern alligator lizards which are a beneficial link in the food chain. Standing dead trees (snags) are being left, with any dangerous branches removed. Snags are critical for many bird species, both for nesting and as a source of bugs for food. And areas of branches and leaves are in piles as habitat for a variety of creatures including red legged frogs.
In keeping with Simon's inclination of working with nature, his garden supplements include organic materials such as alfalfa and kelp meal and compost from kitchen and garden scraps. He even takes his commitment to environmental living beyond his home as he has completed an Organic Master Gardener course and is employed with a green gardening company. Simon helps Greenstar Plant Products focus on green solutions for farmers and gardeners alike, by working on research and development of organics and participating in numerous public speaking engagements.
Simon's making his dream for a natural organic acreage come true. There is effort, but there are rewards, too. Simon gains satisfaction at working with nature, rather than trying to control this life-supporting force. And he gets to see wild animals interact on the property and listen to the bird song in the trees. Simon's property is certified with the Canadian Wildlife Federation's Certification program. Get more information on having your property certified.
<!-\\Default - single specific -->