<!-\\Default - single specific -->
Solanum Tuberosum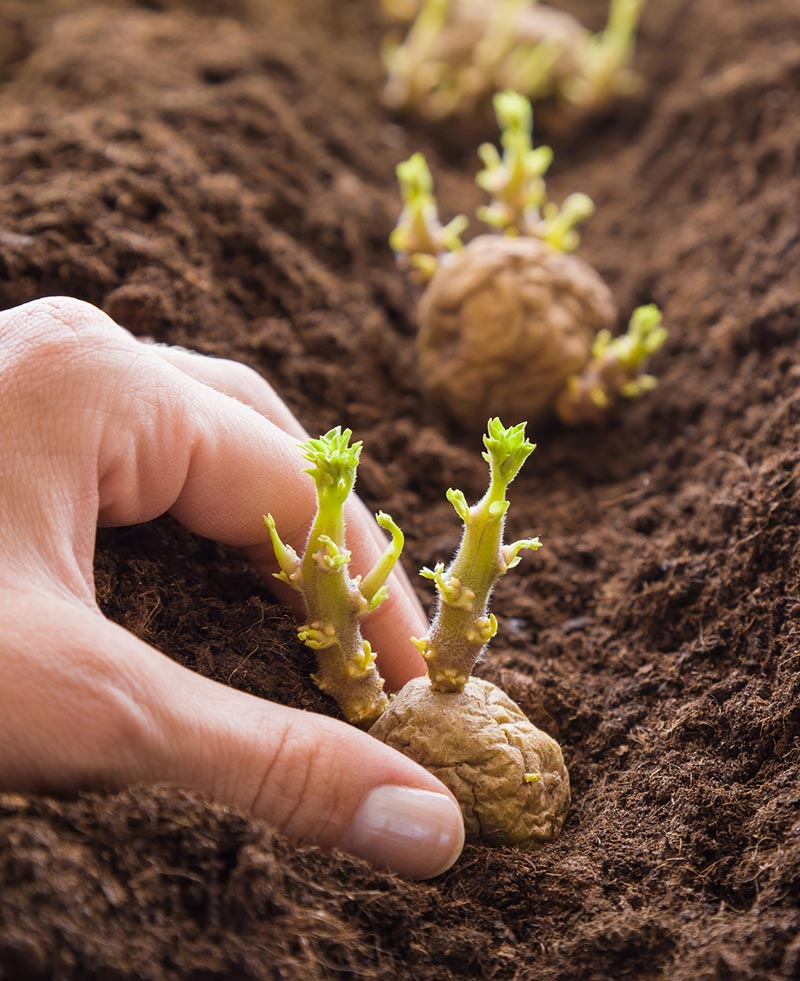 Potatoes are a favourite food for many Canadians. We mash them and roast them, make them the center of salads and more. This versatile food has been used for centuries, including by the Incas of the Andes. There are many species of wild potatoes, mostly from South America in Argentina, Bolivia, Peru and North America in Mexico and the southwestern United States.
GROWING
Growing your own potatoes can be both affordable and satisfying. First, choose varieties that suit your climate so they have enough time to form tubers before the autumn frosts start.
Use certified seed potatoes which are disease-free. You can use your own mature potatoes, if stored properly to last the winter but keep in mind that diseases can easily be carried from affected potatoes to healthy ones.
Find a spot in your garden that gets full sun and has well-drained soil. Dig your soil to loosen it up and amend with compost for air and water flow, especially if you have heavy clay soil. But Maureen Bostock, author of Growing Potatoes Organically and co-owner of Sweet Meadow Farm, encourages those of us with heavy clay soil to persevere. "Clay contains high levels of available nutrients and can grow excellent potatoes if the soil receives regular compost applications or cover crops (plants grown in non-production months to improve the soil) are tilled in."
If you want to get a head start in the spring, let your potatoes sprout a bit before planting. Otherwise, cut the potato into pieces with at least one 'eye' (a sprout along the surface of the skin) although experts agree it is usually better to have two or three per piece. Let them sit in a dry place for up to a day to allow a protective layer to form which will help protect the potato from harmful bacteria. Plant the potato eye side up in holes about 15 to 30 centimetres (6 – 12 inches) apart and 10 to 20 cm (4 – 8 in) deep when the soil is at least 10° Celsius. Planting in cooler temperatures encourages rot. Once planted, cover with a few inches of soil.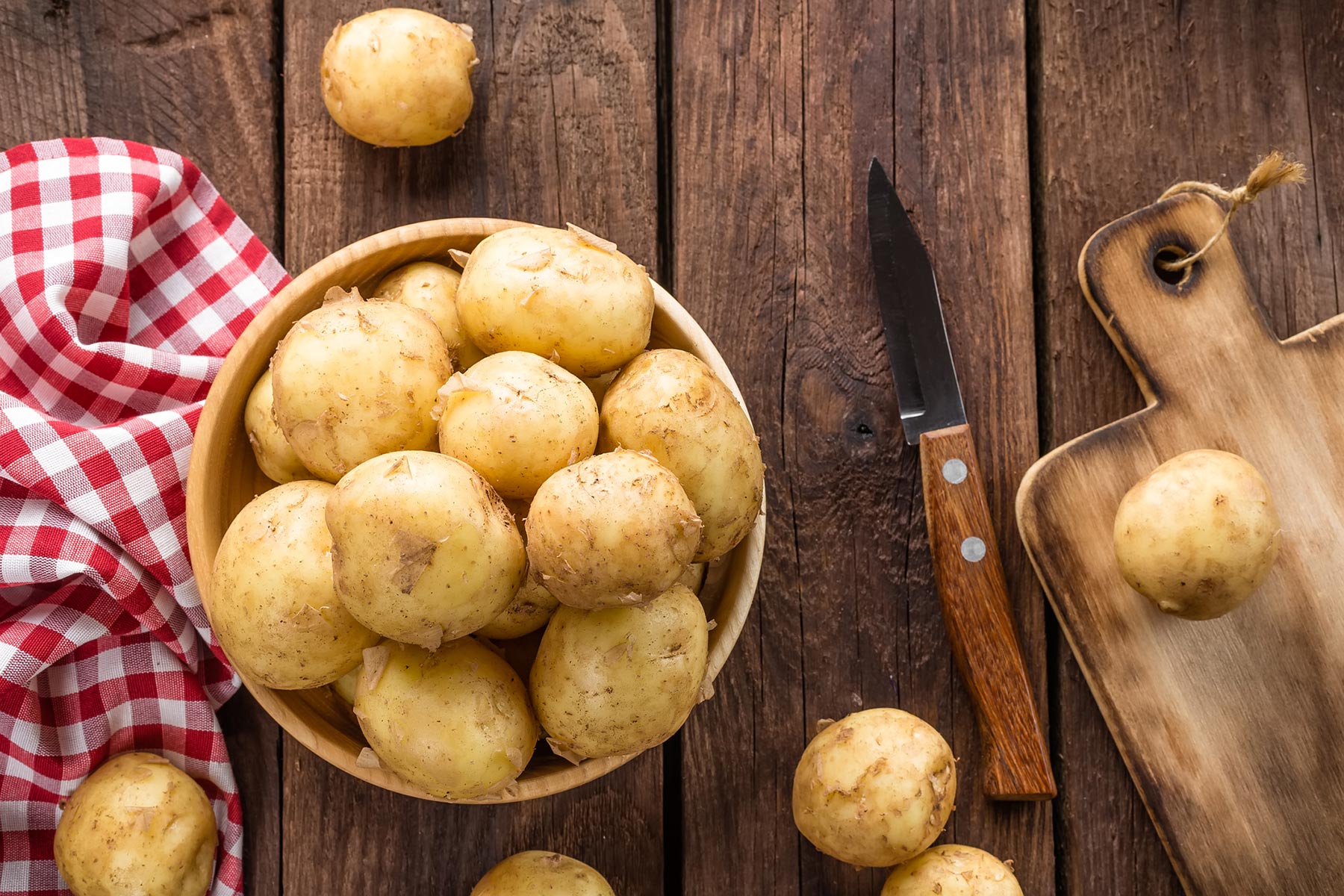 Every so often, cover the base of the plant with either soil or mulch, such as straw. This 'hilling' will prevent your potatoes from being exposed to sunlight which would cause them to turn green and develop solanine which is toxic to ingest. In addition to regular checking, also have a look after heavy rains to see if any soil or mulch has been washed away.
Maureen notes that there is another option to consider. "Some gardeners till the soil, lay down mulch, place the potatoes on top and then cover with a second layer of deep mulch. As the potato plants grow, mulch is continually added around the plants to keep the potato tubers from being exposed to sunlight. At harvest, the potatoes are clean and easy to remove – no digging required!"
Some challenges you might encounter are late blight, early blight and potato scab as well as the Colorado Potato Beetle, the Potato Leafhopper and the Potato Flea Beetle.
As with other pest and disease problems, rotate your crops every year or two. Avoid planting potatoes in spots where you recently grew other root vegetables like beets, carrots and turnips as well as other members of the nightshade family such as tomatoes, eggplant and peppers. Grow resistant varieties and any year end cleanup of leaves should be moved to a compost pile.
"Good air circulation in the potato field is very important to preventing air borne diseases such as late blight," advises Maureen. "Keep the rows of potatoes wide enough so that when the plants are mature they do not touch the plants in the next row. If you are using overhead irrigation, stop irrigating from the beginning of flowering until harvest. This will keep the leaves dry and reduce the potential for infection." Any watering after flowering must be done at soil level to keep the leaves dry. "If you see late blight on the leaves, your potatoes may still be free of the disease provided that you delay harvest for at least two weeks after the tops die back or are mowed down."
For insect troubles, you may wish to cover your plants with a floating row cover, otherwise check regularly to hand pick them from your plants. "Colorado Potato Beetles are the number one challenge of growing potatoes. As they overwinter in the ground near the area where potatoes were grown last year, the most effective hand picking is done when they emerge (usually mid to late spring). If this generation of Potato Beetles is not controlled, the population can spike to numbers that are overwhelming. Some growers are turning to planting late as a way to avoid Colorado Potato Beetles. Potatoes planted in mid-summer will be less likely to attract Colorado Potato Beetles but do face other challenges as they are emerging when temperatures are warmer."
Another potential problem with potatoes are Flea Beetles although they are more of a cosmetic problem with the leaves than anything else.
Attract beneficial insects with nectar and pollen rich flowers. This will help our pollinators as well as adults of small (and harmless!) parasitic wasps whose young feed on various garden pests. Grow plants with flowers easily accessible to their small mouth parts such as yarrow, marigolds, zinnias, asters, clover and herbs like lemon balm, coriander or thyme.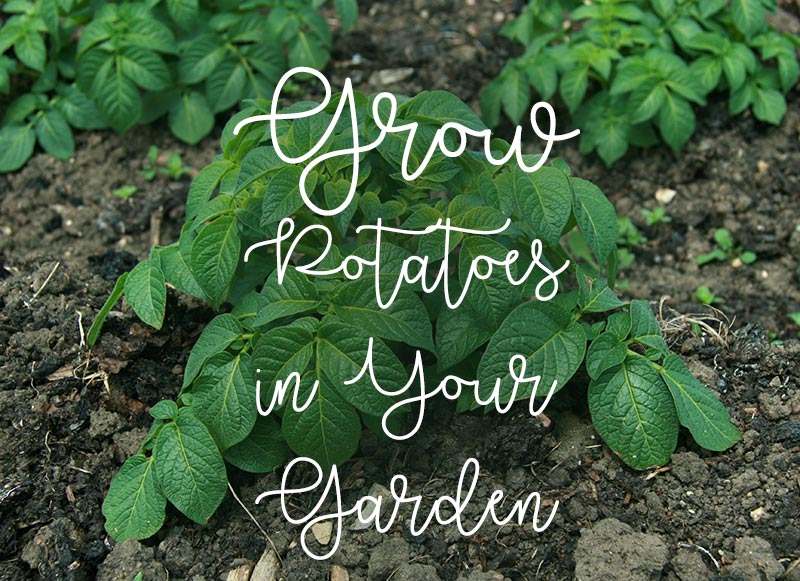 HARVESTING AND STORING
Potatoes generally have some small tubers ready for digging by the time flowers are blooming on the plant. Maureen suggests feeling around the outside of the potato roots to find any to harvest, without digging up the plant and stopping the tuber production altogether. We all love these "new" potatoes with their thin skins and moist insides but be sure to eat soon after harvesting, or store for only a few weeks in a paper bag. If you want potatoes that will store longer, wait for the bigger tough skinned tubers that mature by the time the plant has died back in the autumn. So long as there is no threat of a hard frost, leave these winter potatoes in the ground a couple of weeks after the plant has died, to help the skins to continue thickening.
To dig potatoes, get your digging fork in around the perimeter of the plant's foliage or mound and go as deeply as you can before lifting up to expose the tubers which you can then pick out of the earth. Store in a cool spot, such as a cellar or basement, in a breathable container to allow air to circulate.
USES
Potatoes are very nutritious, especially if the skins are left on. They contain minerals such as potassium, calcium, zinc and manganese, vitamins such as vitamin C and B6 as well as fiber, choline and folate.
These nutrients, either from eating the whole potato or boiling the skins to make a broth for drinking, can help your immune system and reduce inflammation, as well as provide skin, bone, brain and nerve support.
Potatoes can also be used to help to draw out the heat and minimize irritation from minor burns. Either slice a raw potato and place on the affected skin or cut up and mash with a bit of water to apply like a poultice.
Even when not dealing with first aid issues, potatoes are beneficial to the skin. Potato juice has been used to improve a variety of skin complaints including scars, wrinkles and blemishes. Make the juice by cleaning the potato, grating it and then squeezing out the juice with a fine sieve or cheesecloth.
<!-\\Default - single specific -->