<!-\\Default - single specific -->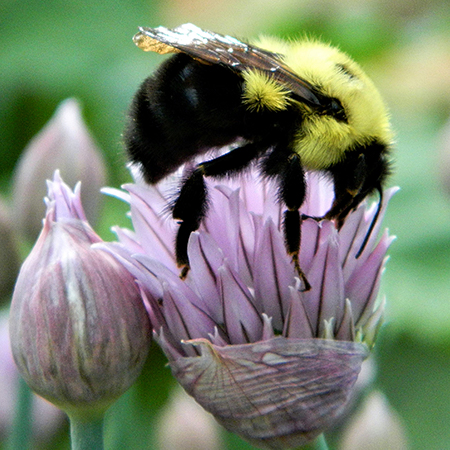 Native pollinators use chives for food

Chives are both a useful and colourful addition to the garden. With their edible leaves and pink-purple flowers they can add flavour to your meals, provide food for pollinators and deter potential pests from plants.
There is a similar species Allium tuberosum often called Garlic/Asian/Chinese Chives which is also edible and beneficial to wildlife. Its leaves are flat and its flowers white.
Growing
Chives are a hardy plant and can live in areas as cold as zone 3. If planting chives seeds, sow them in the early spring directly in the ground once it has warmed up enough to dig, about one centimetre below soil level. Alternatively, you can start seeds indoors a few weeks before the threat of frost has passed and then transplant seedlings outdoors beyond that frost date. Keep the soil moist (but not saturated) until the plants germinate and get their roots established in the first several weeks. Chives generally do well in dry to average soils and in full sun although they can handle a bit of shade as well. Chives can be grown at the edge of garden beds for ease of access and visibility or amongst vegetable plants to deter pests (although some experts warn to avoid planting chives next to beans, asparagus, spinach and peas). If growing in a pot you will need to water once daily - more during heat waves especially if the pot is small and there is less earth to both hold water and protect the roots. Fertilize with compost tea or some other natural product a couple of times during the growing season if harvesting regularly or if they are in a pot.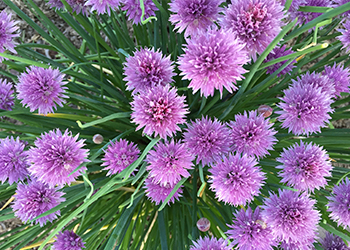 Chives grow to about 30 centimeters tall in tidy clumps but seed profusely so you will find yourself thinning plants each year. It is a manageable job so long as you don't plant them near a stone path which is, I learned first hand, is not the easiest place to weed, especially if you don't get them when young before their roots get established!
Harvesting & Storing
Snip leaves as low as a few centimeters above the ground for a meal that day or keep in the fridge in a plastic bag for a day or two. Flowers should also be used soon after cutting. You can also freeze leaves by rolling them tightly up in a plastic bag and slicing off a portion as needed.
Uses
Companion Planting - Chives are said to improve the flavour of carrots and tomatoes and make a good companion plant for Brassicas (kale, broccoli etc.). They can help to repel aphids, mites, rabbits, carrot rust fly and Japanese beetles.
Support Pollinators – Chive flowers are visited by many of our native pollinators including bees and hover flies.
Food - Leaves are often chopped in salads, as a garnish on soups, mixed in sour cream dips or cream cheese spreads, used in cheddar biscuits and many other meals where a mild onion flavour is desired. Flowers are edible and can also be used in salads.
Decoration - Chives are also a pretty addition to the dinner table – or anywhere else for that matter – as a decoration in a vase! Watch for their blooms in late spring/early summer, depending upon where you live in Canada.
Health - As to health benefits, chives contains many nutrients. You aren't getting a large amount, considering the small portion of chives typically used with a meal, but you might enjoy knowing that you are still getting some vitamins including vitamins A, C and K, antioxidants and minerals such as potassium and calcium.
<!-\\Default - single specific -->