<!-\\Default - single specific -->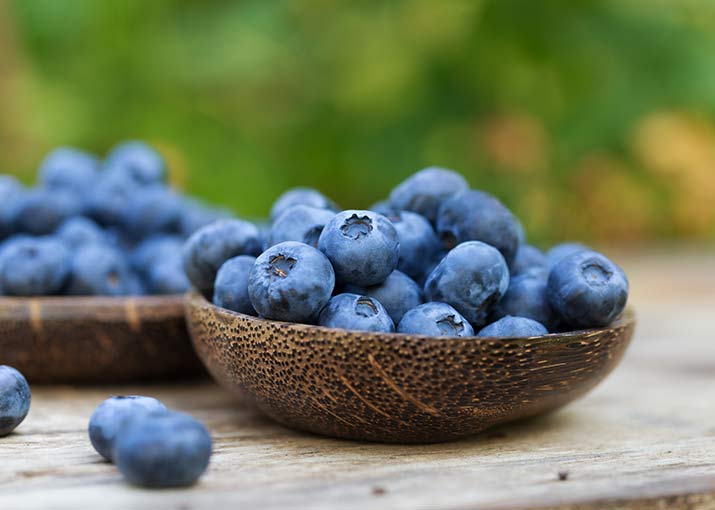 Sweet and juicy blueberries are one of the many joys of summer, especially when locally available. Growing them at home is even more fun where you can eat them right from the plant.
Growing
With our climate, Canadians typically grow one of two types of blueberries - Lowbush Blueberry (Vaccinium angustifolium) which is native to Ontario and the rest of the eastern provinces and Highbush Blueberry (Vaccinium corymbosum), its taller cousin, which ranges from Manitoba eastwards and part of British Columbia. Whichever you grow, experts suggest planting a few varieties of that kind to be cross pollinated, leading to a better yield of berries.
Both blueberry types like sun and require acidic soil. If a soil test reveals that your soil is too alkaline, you can add the mineral sulphur to the area around the hole before planting. Once planted, cover the soil around the plant with mulch to keep the weeds down, prevent the soil from drying up and help keep the roots cool. Use acidic material such as pine needles, chopped leaves, wood shavings or sawdust to the top layer of soil for mulch. This organic matter will also provide nutrients and help keep the soil loose for air and moisture to travel.
After a few years, start pruning out dead wood at the very end of winter, once the harsh weather is over.
Harvesting and Storing
Watch as berries ripen so you can harvest them before the birds eat them all. If they come off easily, without needing any coaxing, then they are ripe, sweet and ready to eat. If you need to protect plants from birds, try a chicken wire mesh cage that is easy to place and remove for that period of time. A taut mesh will also work, but the plant must be secured or else birds will find their way in. Loose mesh could also pose a tangling problem for birds as well as dragonflies.
If you have more berries than you can manage, lay berries on a tray in the freezer. Once frozen, place in a freezer bag for later use.
Uses
Make jams, muffins, add to apple pies or pancakes or simply eat fresh in yogurt or on top of breakfast. Make fruit leather by puréeing with a bit of water and any of the following: lemon with the rind removed, apple, raspberries, strawberries, blackberries or bananas. Then spread on a dehydrator sheet and leave for a day or so until ready. Alternatively, lay on a tray in the oven lined with parchment paper and warm on the lowest setting possible. After a few hours, remove, cut and roll up in an airtight bag and store for several weeks. The drier the leather, the longer it will last.
<!-\\Default - single specific -->