<!-\\Default - single specific -->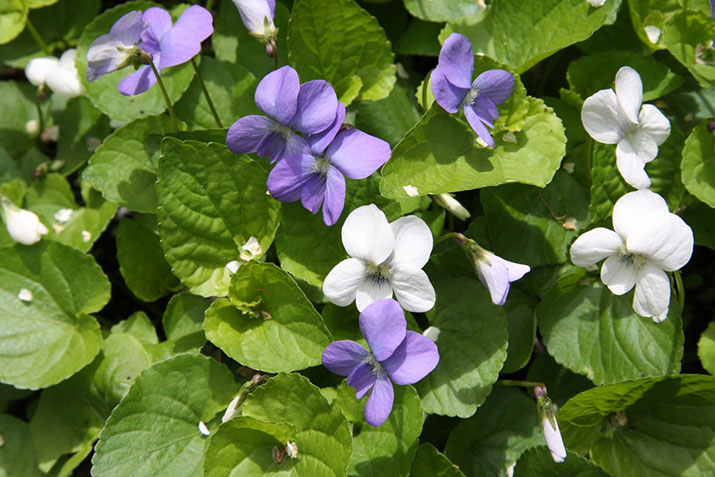 This group of edible plants include Violets, Violas and Pansies. There are many species of Violets native to Canada and can be found in all sorts of places, from gardens to woodlands and waste places. These low growing plants have white, purple or yellow flowers that bloom in the late spring or early summer. Many species tend to spread, but generally at a manageable pace and plants that are weeded can be added to salads for colour and nutrients.
Aka – Sweet Violet, Heart's Ease
French names – fleur de mars, violette du carême, jacée du printemps
Status – A mix of native and non-native species
Did You Know? - The French doctor, René Laënnec, inventor of the stethoscope and leading expert in chest conditions at the time, is said to have regularly drunk a mixture that included Violet flowers as an anti-flu drink.
Where it is Found/How to Grow – Different species require different conditions, although many thrive in partial shade and prefer a rich soil. Canada has native woodland Violets which we do not encourage harvesting as one needs to know if that species is at risk and/or if the patch is rare in that area, even if it looks prolific in that spot. Also keep in mind that local wildlife is affected from inappropriate harvesting.
Identifying Characteristics – Perennials and annuals. This group of plants has many species and varying characteristics. Some grow in thick clumps while others are smaller and more delicate in appearance. Leaves are typically cordate whose margins generally have rounded teeth. Flowers bloom in spring and have five petals - two petals appear at the top of the flower and three below.
Nutrients – Violets are most noted for their vitamins A and C content. According to The American Violet Society, "a 1/2 cup serving of leaves can provide as much vitamin C as three oranges."
Medicinal Uses – Violets have been praised over the centuries as useful against a variety of ailments thanks to its blood purifying, antiseptic and anti-tumour properties, to name a few. It can help with skin conditions such as eczema, lung infections like bronchitis and whooping cough and a poultice or ointment using its leaves reduces inflammation.
Poisonous look alikes –In his book Identifying and Harvesting Edible and Medicinal Plants, Steve Brill cautions that there are similarities with Monkshood (Aconitum uncinatum), Spring or Dwarf Larkspur (Delphinium tricorne) and African Violets. Always do your research and be sure you are totally sure of the plant you harvest, cross referencing several reputable sources as you learn.
Cautions – Avoid ingesting yellow flowering species and roots of all Violets as they can cause vomiting or strong bowel movements.
Suggested Uses –
Leaves:
Dry leaves and flowers to make a tea.
Add fresh leaves to salads.
Flowers:
Add colour and interest to salads.
Crystalize and turn into candied decoration.
Add to water in ice cube trays for visual interest in summer drinks.
Recipes –
Early spring chick pea and violet soup
Steve "Wildman" Brill - Identifying and Harvesting Edible and Medicinal Plants
Violets are great in any soup. I'm especially fond of them with beans.
2 cups presoaked chick peas
5 cups water or stock
1 cup onions
1 cup sliced mushrooms
6 wild carrots or 3 to 4 large commercial carrots
5 celery stalks
3 cups chopped Violets (leaves with some flowers)
2 to 4 tbsp olive oil
2 wild bayberry or commercial bay leaves
¼ tsp white pepper
1 tsp salt
3 cloves garlic, minced
¼ tsp each savory, thyme, sage, rosemary and celery seed
Dash of wine
Cook the chick peas until soft in the water or stock. Sauté the onions, mushrooms, carrots, celery and Violets in a little olive oil. When soft, add to the soup and simmer for 25 minutes. Add the rest of the ingredients and simmer another 5 minutes.
Wild Side Salad / Quinoa Garden Salad
CWF
3 cups cooked quinoa
1 large carrot, peeled into short strips
2-3 stalks of celery, chopped
1 cup tomatoes, chopped
½ cup cucumber, chopped
½ cup mix of dandelion and violet leaves or other edible green
1 small Jerusalem artichoke, sliced, chopped or grated
As much lettuce, spinach and/or wild green as you wish
Handful of violet flowers
Mix all ingredients and serve with your favourite salad dressing. Or, mix ~ 2 Tbsp of the dressing below. (Put the rest of the dressing in a glass jar in the refrigerator – it will keep for a few weeks.)
Top with a sprinkling of violet flowers.
Salad dressing:
Olive oil
Apple cider vinegar
1 small clove of garlic, pressed or finely chopped
1 tsp herb (thyme, basil or oregano)
Pinch of cayenne
Umboshi paste (optional). If you omit, add more apple cider vinegar
Caution: We encourage readers to do their own research and decide if the plants mentioned are suitable for their use. While some plants are completely safe for most people, some have unique sensitivities and should proceed with caution, being mindful of any reactions that occur. Some plants are harmful if the incorrect part is used, or if harvested at the incorrect time (mushrooms, for example). Also check with your health care professional to see if any of this plants' compounds could interfere with any medication being taken, if consumed in large or small doses.
<!-\\Default - single specific -->