<!-\\Default - single specific -->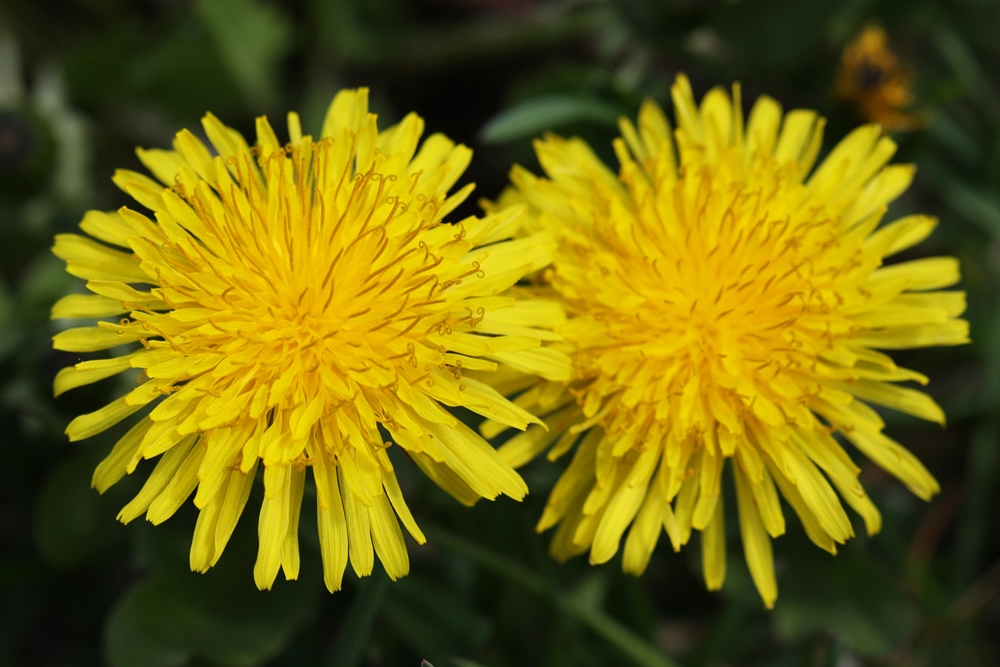 The Dandelion is a plant that it seems so many people either love or hate. Those that want the perfect lawn curse them and work hard to eradicate them. Then there are those who appreciate dandelions for the same reasons that it has been highly regarded for centuries – for its healing and nourishing properties.
Of course, there are others that appreciate them too - pollinators benefit from their early blooms and children (or children at heart) love to see their bright yellow tops lighting up lawns and roadsides. Many a child has proudly brought his or her mother a bouquet of these golden blooms, tucked one behind an ear, made garlands to wear or blown on seed heads while making special wishes!
Aka – Lion's Tooth, Wild Endive
French names – piss-en-lit, dent de lion, florin d'or
Status – Non-native
Did You Know? – Dandelion roots can grow very deeply — up to 16 inches! They draw up minerals from deep below the ground and help to aerate the soil with their branching roots.
Dandelion leaves were used in England centuries ago to make herbal beer. Dandelion flowers were (and still are) used to make Dandelion wine which is said to be rather delicious!
Where They Are Found/How to Grow – These plants can be found on lawns, garden beds, waste places and roadsides. Consider mowing or snipping flowers before they go to seed to minimize their spread in your neighbourhood.
Identifying Characteristics – Perennial. Dandelion leaves don't have stalks and grow in a basal rosette (in a circle at the base of the plant). They can grow from three to 12 inches long with irregular teeth that have considerable variability from leaf to leaf. Flower stems also grow directly from the base of the plant. Each yellow flower blooms atop a hollow stem that has a milky sap. They open on sunny days and close when the sky darkens. Seed heads resemble perfectly rounded fluff balls bearing small brown seeds at the centre.
It can be confused with Prickly Lettuce (Lactuca serriola) except that their leaves have prickly hair on the underside and generally grow along a stem, unlike the smooth leaves of Dandelions that grow around the top of the root (crown).
Nutrients –– They contain iron, potassium, calcium and other minerals vitamins A, several Bs and C, E, and D! Flowers are high in the B vitamin choline. Leaves are a mild diuretic.
Medicinal uses – Dandelions are good for so many organs, leading to improved health overall. They are a particular help to the liver, gallbladder and kidneys and are a great tonic for digestion. It is often used as spring cleanser, gently detoxifying the body. Dandelion wine is said to be good for the blood and sap from flower stems can be applied to warts.
Poisonous look alikes – None
Cautions – Avoid dandelions if you have a sensitivity to latex.
Suggested Uses –
Leaves:
Add fresh leaves to salads, smoothies or salad sandwiches.
Steam or blanch and add butter, lemon and garlic or tamari sauce and garlic.
Cook and add to soups, stews, casseroles or stirfrys.
Dry and save for tea.
Marilyn Walker, author of Harvesting the Wild, suggests stirfrying the base of the rosettes (the whiteish heart of the leaves) in butter and adding to omelettes.

TIP: If you are only able to get at the leaves once they are older (bigger) and therefore bitter, boil them and change the water twice. Alternatively, wait for them to be exposed to autumn frosts before harvesting, which help decrease their bitterness.
Flowers:
Make Dandelion wine with flower petals.
Fry in batter to make flower fritters.
Add them raw to salads.
Tom Brown Junior, author of several survival books, cooks the unopened flowerheads for five to 10 minutes (changing the water twice in the interim) and then eats them like Brussels sprouts.

TIP: Be sure to remove the green sepals, found below the petals.
Roots:
Wash in cold water, thoroughly dry and keep for tea. Older larger plants yield larger roots and are easier to clean than small thread roots. Teas made from roots are called decoctions, made by simmering the root for a good 20 minutes.
Roast the roots, after cleaning, to use as a coffee substitute. Karl Knutsen, author of Wild Plants You Can Eat, roasts his roots "before a slow fire or in a 300°F oven until they are completely dry and dark brown throughout, about 4 hours." He only uses one teaspoon per cup as it is stronger than regular coffee.
Chop or grate fresh roots into salads.
Boil, steam, sauté or blanch, alone or with your favourite herbs and veggies. Serve with a bit of butter, garlic and tamari sauce or with lemon juice, butter and freshly grated parmesan cheese.
Add to soups and stews.
Recipes –
Dandelion Sauté
Steve "Wildman" Brill - Identifying and Harvesting Edible and Medicinal Plants
This is one of the best ways to learn how to appreciate the flavor of Dandelions.
3 cups chopped onions
3 tablspoons olive oil
4 cups chopped Dandelion leaves
2 cups grated wild or commercial carrot
Several cloves garlic, minced
1 tablespoon wine
1 tablespoon tamari soy sauce
Black pepper to taste (optional)
Sauté the onions in the olive oil. When soft, add the dandelions, carrot, garlic, wine and soy sauce. Cook for 10 – 20 minutes until all the flavours blend.
Serves 4-6
Green Cream Soup
Marilyn Walker – Harvesting the Northern Wild
1 cup cooked Dandelion or lamb's quarters greens. You will have to pick quite a lot to get this quantity, because the greens cook down considerably.)
1 onion
1 ½ cups water
2 chicken bouillon cubes [editor's note – or vegetable broth cubes/powder]
1 ½ cups milk
Salt and pepper to taste
A pinch each of grated nutmeg and allspice
Croutons
In a blender, purée the cooked greens, onion, water and bouillon cubes. Return to stove and simmer gently for 20 to 30 minutes. Add the milk and spices and heat again. Garnish with croutons and serve.
Dandelion Pumpkin Seed Pesto
CWF
3/4 cup unsalted hulled (green) pumpkin seeds
3 garlic gloves, minced
1/4 cup freshly grated parmesan
1 bunch Dandelion greens (about 2 cups, loosely packed)
1 tablespoon lemon juice
1/2 cup extra-virgin olive oil
1/2 teaspoon kosher salt
Black pepper, to taste
Preheat the oven to 350°F. Pour the pumpkin seeds onto a shallow-rimmed baking sheet and roast until just fragrant, about 5 minutes. Remove from the oven and allow to cool. Pulse the garlic and pumpkin seeds together in the bowl of a food processor until very finely chopped.
Add parmesan cheese, dandelion greens, and lemon juice and process continuously until combined. Stop the processor every now and again to scrape down the sides of the bowl. The pesto will be very thick and difficult to process after a while — that's ok.
With the blade running, slowly pour in the olive oil and process until the pesto is smooth. Add salt and pepper to taste.
Makes about 1 cup.
Wild Side Salad / Quinoa Garden Salad
CWF
3 cups cooked quinoa
1 large carrot, peeled into short strips
2-3 stalks of celery, chopped
1 cup tomatoes, chopped
½ cup mix of Dandelion and violet leaves or other edible green
½ cup Jerusalem artichokes, sliced, chopped or grated
As much lettuce, spinach and/or wild green as you wish
Handful of violet flowers
Mix all ingredients and serve with your favourite salad dressing. Or, mix ~ 2 Tbsp of the dressing below. (Put the rest of the dressing in a glass jar in the refrigerator – it will keep for a few weeks.)
Top with a sprinkling of violet flowers.
Salad dressing:
Olive oil
Apple cider vinegar
1 small clove of garlic, pressed or finely chopped
1 tsp herb (thyme, basil or oregano)
Pinch of cayenne
Umboshi paste (optional). If you omit, add more apple cider vinegar
Caution: We encourage readers to do their own research and decide if the plants mentioned are suitable for their use. While some plants are completely safe for most people, some have unique sensitivities and should proceed with caution, being mindful of any reactions that occur. Some plants are harmful if the incorrect part is used, or if harvested at the incorrect time (mushrooms, for example). Also check with your health care professional to see if any of this plants' compounds could interfere with any medication being taken, if consumed in large or small doses.
<!-\\Default - single specific -->