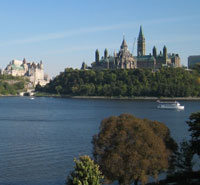 Petition: Navigable Waters Act Petition
We need your help. We are deeply concerned regarding the recent Navigable Waters Protection Act amendments found in the Budget Implementation Act, 2009, Bill C-10. We urge you to lend your voice by signing the petition that we will be sending to the Minister of Transport, Infrastructure and Communities, The Honourable John Baird.
Watered-Down Amendments
The amendments as proposed significantly reduces the waterways that could be protected under the Act's approval process and puts it under the sole discretion of the Transport Minister and the Cabinet, as well as providing no indication of alternative measures to protect Canada's water from these works either individually or cumulatively.
These new amendments are unacceptable. All streams, large and the very small, combine to provide Canadians with the most essential element for all life – water. In the coming years Canada's water supplies and water quality will be negatively affected by climate change, pollutants, and works of various kinds. Please add your name to the list of concerned Canadians.
Canadian Wildlife Federation's Suggested Amendments
To help protect Canada's water supplies, the Canadian Wildlife Federation would like to see the following changes to the amendments:
Clear, transparent and consistent criteria for what makes a class of works or a class of navigable waters exempt from the approval process.
Alternative measures of protection for any waterways exempted from the existing approval process.
As a group, the many small waterways that may be exempt are vital to Canada's water supply and while individually a single "work" exempt from the approval process may have minimal impact on the aquatic environment, the cumulative impact from many exempted waterways and/or works in a single watershed could have a profoundly negative impact. It is vital that tools to minimize the potential cumulative impact from works be incorporated on individual waterways (regardless of size) and watersheds as a whole.
Maintenance of the existing degree of public consultation on proposed works
(published in the Canada Gazette and in at least two local newspapers) rather than reduced to the Canada Gazette and one local newspaper for only those works that substantially interfere with navigation, as determined by the Transport Minister. This change would result in many works proceeding with little to no public awareness and therefore little to no consultation.
You can also help by supporting CWF in its important advocacy work and in developing and providing education programs like Rivers to Oceans awareness program. Please make a donation today.
CWF knows that Canadians care deeply about our wildlife and the vast sweeping spaces they call home — we share this vision and work to ensure healthy species and spaces remain for future generations. But we can't do it alone. By supporting CWF you are part of a growing community of Canadians who value wildlife and wildlife habitat.
Take Action