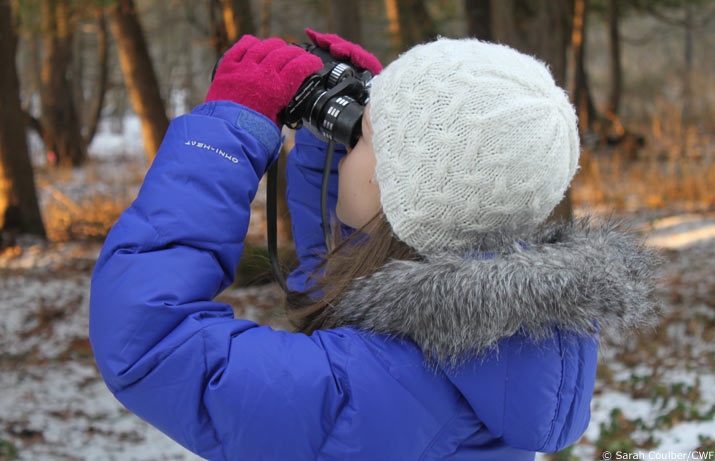 There are two main annual bird counts that Canadians participate in during the winter months – the Christmas Bird Count (CBC) and the Great Backyard Bird Count (GBBC).
The CBC started in 1900 by Frank Chapman, an ornithologist with the American Museum of Natural History. Concerned with declining bird populations, he organized the "Christmas Bird Census". The hope was to help shift the tide from a hunting competition called "Side Hunt" where people competed to kill the most birds and other animals, to a conservation-oriented activity instead. The event in each location being surveyed was called a 'count' and the challenge was to note as many birds as they could find on Christmas day.
What started with 25 counts by 27 people, from Ontario to California has grown to more than 2,200 counts with over 63,000 counters all the way from the Arctic in North America down to the tip of South America!
Counts are performed on one day at Christmas time and are typically organized by local groups such as field naturalist clubs where the area in question (a 24 km diameter circle) is divided up, although individual efforts are also welcome. At the end of the day, the many lists are given to organizers to submit for analysis.
The GBBC, on the other hand, takes place for one to four days in February. Participants can count for 15 minutes for a single day, or for longer amounts of time for as many of the four days they wish. You can work as an individual or with family and friends and lists made are given directly to GBBC. And you don't have to stick to backyards. You can create a separate list for a local park or school, too!
The benefits of both bird counts are far reaching. Not only do participants enjoy getting out into nature and seeing our winter birds with like-minded people but the information gathered is used in many important ways.
The data on its own, and when merged with other surveys such as the summer Breeding Bird Survey, helps researchers monitor the status of bird populations and patterns. This in turn leads to understanding how weather, diseases and other factors are influencing our feathered friends.
But it goes further. The information is used in many high level reports and has helped identify threats to both birds and their habitat. This has led to adding birds to the Species at Risk Act lists, such as the western screech owl and Newfoundland red crossbill. Conservation efforts for many bird species are thanks to these Citizen Scientist activities.
So no matter your age, expertise or abilities, all are welcome. Visit these links for details on a count near you.