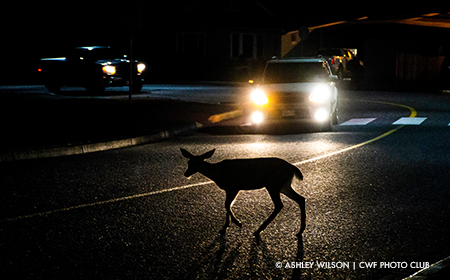 This question is very timely! Deer are active throughout the year, but especially in the fall during the time of their rut. That's when male deer are on the move looking for mates. And with the sun setting earlier, people are spending more time driving in the dark, increasing the risk of a wildlife collision.

A quick online search shows the importance of exercising caution when driving:
"Car collisions with wildlife are getting worse in Ontario" (The Globe and Mail, July 1, 2018)
"In British Columbia, the number of wildlife vehicle collisions is increasing…" (Wildlife Collision Prevention Program)
"Collisions with animals on N.B. roads have nearly doubled this spring" (Global News, April 10, 2017)
Now is a good time to remind ourselves of some important tips for avoiding deer on the road and arriving safely at our destination. Deer tend to be most active at dawn and dusk, but you should always be alert when driving.

Watch for deer in ditches and along both sides of the road. Deer that approach cars from the right side of the road are usually easier to avoid than deer that approach from the left. As drivers, we tend to pay more attention to the right because it's the side we're driving on and because our headlights illuminate it better.
When possible, drive with your high beams on. This makes it easier for you to spot wildlife, and it gives you more time to react to eye shine, which is when an animal's eyes reflect your headlights.

Concentrate on the road when driving. Your focus should not be on the radio, your phone or an item that has fallen to the ground. If you have a passenger in the car, ask them to help you with any distracting tasks, or safely pull over if a task really can't wait.

Slow down when you see a wildlife crossing sign. These signs are placed in locations where there is an increased risk of collisions and where wildlife often cross the road. And they do work! A 2011 study from the University of Alberta found that deer collisions can be reduced by 34 per cent when warning signs are placed in areas where deer are known to frequently cross.

Always assume there's more than one. Deer typically travel in small groups. If you see one deer cross the road, be sure to slow down and stay alert – there's a good chance more deer are nearby.

Try to brake, not swerve. If you see a deer in your path, it's recommended that you brake rather than swerve away from the deer. Swerving can cause you to drive off the road and lose control of your vehicle, or to travel into the other lane and hit another vehicle. Also, deer are unpredictable and may run into your swerving vehicle rather than away from it.

Deer whistles aren't anything to whistle about! Some people believe that deer whistles are effective at deterring deer. But tests haven't been able to prove that the high frequency sound of the whistle changes deer behaviour.

Honk your horn. If you see a deer on or near the road, slow down, flash your headlights and honk your horn. Deer can freeze in headlights, but a few honks of your horn may be enough to scare them off the road and out of harm's way.

Don't throw food out your car window! Many people think it's acceptable to throw compostable food, such as apple cores or banana peels, out of car windows. However, discarded food items can attract deer and other wildlife to the road. Hold on to any food scraps and dispose of them properly once you arrive at your destination.

Keep these tips in mind when you're driving, and always stay alert for the possibility of deer in the roadway. Avoiding collisions not only preserves our valuable wildlife, but also protects the lives of you and your passengers.