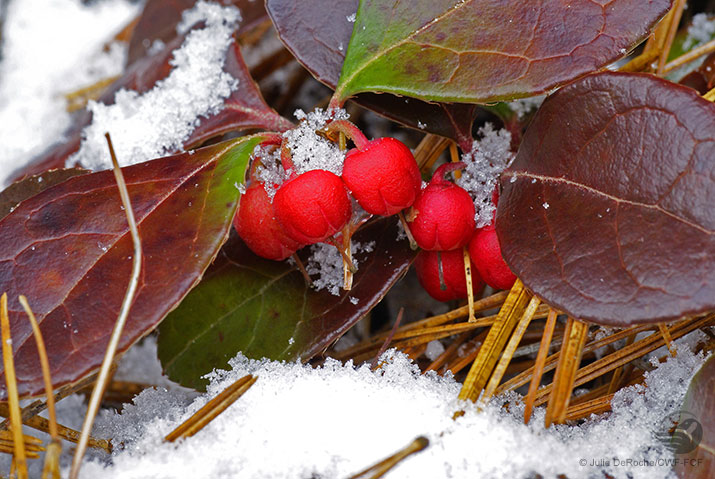 Most plants can be attractive in the winter, depending on what you like and how you arrange them in your garden. Grouping smaller plants in big clumps is useful in summer to attract butterflies and birds but can also look more appealing in the winter, than a single plant on its own. They can also look more attractive if larger plants, with a contrasting shape or colour, is nearby. For instance, evergreens like spruces and firs always add visual interest with their conical shapes that contrast nicely with other lower more rounded plants such as shrubs and groups of perennials. They generally add green to the garden unless their boughs are covered in snow, in which case they take on a beauty that many photographers and painters enjoy capturing on film and canvas. Deciduous trees may not have much colour beyond greys and browns, but after a snowstorm, their branches are delicately lined with white, especially those with narrow branches such as ironwood. It can even be fun to learn to identify trees solely by their shape without leaves and the buds that are now formed. Some shrubs are fun, such as red osier dogwood that has bright red stems and a yellow variety that, yes you guessed it, has yellow stems! More colour can come from shrubs with berries like our native holly (Ilex verticillata), staghorn sumac and the smaller wintergreen shown above. Perennials help too, such as coneflowers whose seed heads are left for feeding visiting birds and wear the snow like little caps.

All these plants offer food and/or shelter to overwintering wildlife such as birds, squirrels, hares and others. The presence of these wild neighbours can further enhance your winter enjoyment.

As you walk your dog or drive to the grocery store, notice what plants and arrangements strike you in the gardens, parks and natural areas you pass by, ideas for recreating in your own garden.