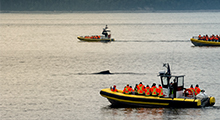 It doesn't have to be. In fact, going whale watching can instill a sense of awe and admiration for these beautiful animals. It can offer an experience where we learn about their threats and what we can do to protect them, even foster future conservationists. However, whale watching can also disturb and harm whales if we approach them too quickly, get too close or make too much noise. The St. Lawrence Estuary population of the Beluga Whale and the Pacific and Atlantic populations of Blue Whales, all listed as Endangered on Canada's Species at Risk Act (SARA), even have whale watching listed as potential threats.

So how do we watch whales responsibly? Fisheries and Oceans Canada is making sure that all marine mammals, including whales, can be enjoyed as long as the Marine Mammal Regulations under the Fisheries Act are adhered to. This includes staying at least 100 metres away from most whales, dolphins and porpoises. For some circumstances, the minimum distance is even greater. In the St. Lawrence Estuary for example, you must stay 400 metres away from Beluga Whales, Blue Whales and other species of whales, dolphins and porpoises that are listed as either Endangered or Threatened under SARA. For a complete list of the laws and regulations, be sure to visit DFO's website. Anyone found not abiding by these Regulations can be charged under the Fisheries Act.
The least obtrusive way to watch whales is from land. Some areas around the St. Lawrence provide great viewing opportunities. Whale watching from land means less stress and disturbance to whales and other marine mammals, and depending on the area – they may come close enough that you won't even need binoculars!

Planning to whale watch from a boat? Before you jump on board a commercial tour, make sure you call or visit their website and have the opportunity to ask questions to ensure they follow the Marine Mammal Regulations. Another feature to look for in whale watching companies are those that have naturalists on board so you can learn about Canada's marine animals, the threats they're facing and what we can do to help them. Some companies also give a share of their profits to organizations or funds to support marine mammal research.

If you have your own sailboat, sea kayak or other boat that you're planning to go whale watching with, be sure to familiarize yourself with the Marine Mammal Regulations before heading out. Some areas also have additional regulations so be sure to do your research!