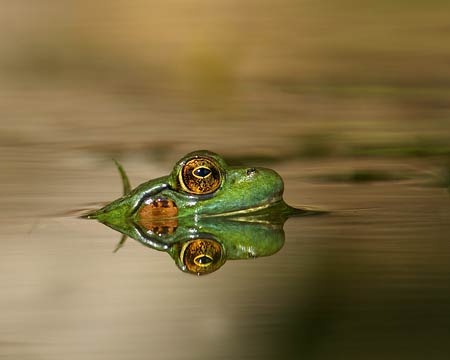 Frogs or toads should not be purchased or collected from the wild since it can be very difficult to reproduce their exact habitat needs. Instead, consider their habitat requirements that you can fulfil in your own backyard that will allow frogs to find shelter on their own. Check your pond to see if it offers these features:
• You have to provide frogs with a permanent body of water - with at least one section 2 m deep - if you want these amphibians to survive beyond their first summer.
• Does your pond offer a partially shaded (not deep shade) spot in your backyard that gets no more than four hours of direct sunlight a day? Otherwise, the algae growth in your pond could get out of hand.
• You'll need to add water to your pond during periods of low rainfall or freshen up the water if it gets stagnant in late summer. It's also a good idea to build your pond close to a garden or unmown section of your lawn, which will draw plenty of bugs and keep amphibian occupants well fed.
• For overwintering frogs your pond must be at least 2 m deep in spots or you will need to install a pond aerator to keep it from completely freezing in winter.
• Remove any stones or sharp objects and line the bottom with sand to a depth of 5 cm.
• If your pond has steep sides, add rocks or logs to allow frogs and toads to climb out of the pond. It'll also help to prevent small critters, like chipmunks and other small creatures, from drowning when they head to your pond to get a drink of water
• If your water is chlorinated, let it stand for a week before adding it to the pond.
• Add aquatic plants. Aquatic vegetation can be planted in pots, then submerged at varying depths in the pond.
• Plant grasses around the edge of your pond to attract insects for hungry amphibians.
• Place a small island of rocks about 1 m from the edge of the pond as a resting spot for frogs and dragonflies.
• Don't be disappointed if amphibians don't take up residence in your backyard pond right away. Sometimes they're slow to expand their ranges.
• Never catch frogs or toads and relocate them to your pond. Amphibians have been known to travel more than three kilometres to return to the pond where they grew up.
• Remove fallen leaves in the spring and fall to prevent fouling of your pond.
• If you use a recirculating pump, remember to clean the filter once a week. (These pumps, which create the sound of running water, will attract birds to your pond.) For more information on ponds, click here.