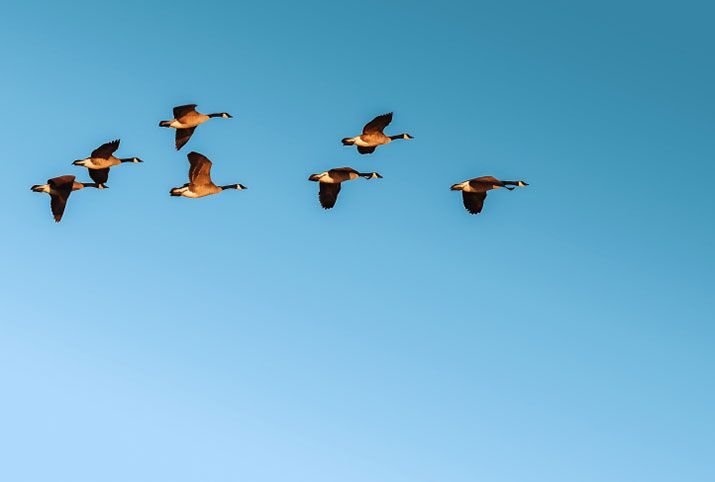 Q. Is there a reason geese fly in v shape?
A. It's always been thought that geese and other migratory birds fly in a v shape to conserve energy but there hasn't been any direct evidence showing how birds actually conserve energy by flying in this formation.
Until recently that is. In a study that was published in 2014, European researchers used 14 captive bred northern bald ibis'. These ibis' were hatched at a zoo in Austria and were about to undergo a paraplane-led migration. Researchers took advantage of this situation and fitted each of the 14 birds with data loggers.
It turns out that migrating birds take advantage of something called upwash. Upwash is created when a leading bird flaps its wings and creates a vortex of upward flowing air off of its wingtip. If the trailing bird flies to its side in this flowing air, or upwash, it requires less energy to maintain its altitude. In contrast, there is also a downwash of air. This is where a bird does not want to be! When a flapping wing cuts through the air, directly behind the wing is a downwash of air which causes any birds flying here to use more energy to maintain its height.
While flying in a v formation never looked like an easy task, we now know there is much more going on for birds to take advantage of this energy saving formation! Birds have to constantly change their position to take advantage of the upwash created by the bird in front – an area that is constantly changing with the wing flaps of the leading bird.