Join Forces against the Alien Invasion
When non-native species find their way to Canada, often stowing away in ships' ballast tanks or on trucks or trains, they can multiply quickly, wreaking havoc on native species and ecosystems. Take, for example, the spiny water flea. This European crustacean made its North American debut in 1984. Within three years, the tiny invader had spread throughout the Great Lakes and beyond, competing with native species for limited food supplies. The Eurasian ruffe and round goby are aggressive fish invaders whose populations have grown alarmingly in the past 10 years, preying on the eggs and young of other fish or competing with them for food.
More widespread and infamous are zebra mussels. Just one of these black and white freshwater molluscs can produce a million eggs a year, forming masses of 750,000 per square metre. They cling to every available surface, including water pipes, boat hulls, buoys, and animals like crayfish and clams, while smothering fish spawning grounds.

The most visible alien is purple loosestrife, capable of outcompeting all native plants and forming impenetrable stands that provide neither food, nesting habitat, nor shelter for wildlife. Able to resprout from tiny fragments, with each plant producing nearly three million seeds a year, purple loosestrife has infested every province in Canada, sparing only the Yukon and Northwest Territories.

Here's how you can do your part to curb the alien invasion:
Learn how to identify and monitor non-native plants and animals. For instance, a good way to monitor zebra mussels is to hang a rock tied to a rope off the end of a dock and check it from time to time for clusters of these molluscs. Pamphlets detailing how to identify aliens are available from many of the wildlife agencies listed on the back of this booklet.
If you suspect that a new invasion of non-native species has occurred, report it to your department of natural resources.
Launch an education campaign aimed at boaters, anglers, scuba divers, and waterfront owners to prevent the spread of aquatic aliens.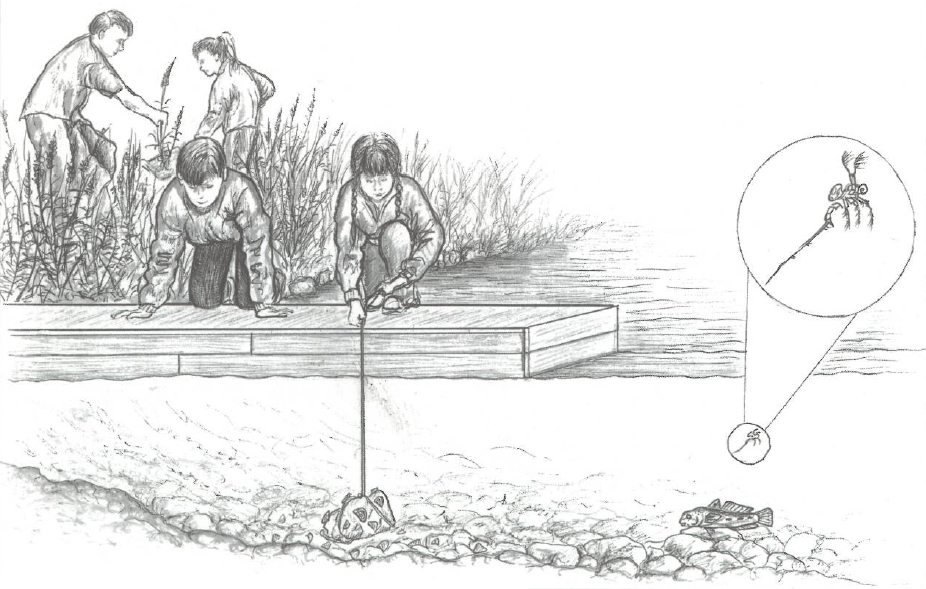 Heritage Rivers: Flowing Into the Future
If a river runs through your community, your ticket to conserving its vitality may be the Canadian Heritage Rivers System (CHRS). The goals of the CHRS include protecting important rivers, giving them national recognition, and fostering their stewardship by informing Canadians about the connection between healthy rivers and healthy communities.

You can encourage a parks agency to nominate a river in view of its natural, historical, or recreational importance. So far, 38 rivers, totalling almost 8,000 km and ranging from barren lands to metropolitan areas, are included in the system.
Create Low-cost Housing for Fish
Fish are shoreline creatures, too, and they need more than water to survive. They have a close relationship with lake shores and riverbanks, where vegetation controls water temperatures by providing shade from summer sun and insulation from winter cold. The roots of trees and shrubs stabilize banks, while the logs, stumps, and brush that fall into the water shelter larger fish and supply escape cover for newly hatched fry. These materials also serve as spawning sites and attract tiny organisms, like algae, zooplankton, and benthos, which nourish small fish and, in turn, feed larger predatory fish like bass, crappie, and walleye.

But underwater housing may be scarce where shorelines have been stripped of trees. You can accommodate fish and other aquatic organisms by building and installing artificial structures.
For each structure, you'll need three wooden pallets, four 1" x 2" x 5' hardwood stakes, four concrete blocks, and two brush bundles or old Christmas trees. These materials should be available at little or no cost.
Nail the four stakes to the three pallets, weighing the structure down with the four concrete blocks, inserting and wiring the Christmas trees or brush bundles between the pallets (see illustration).
Leave the pallet structures on a frozen lake in late winter. They'll sink to the bottom during spring thaw.
Put up Artificial Nesting Structures for Colonial Birds
The great blue heron, one of our largest birds, resides across much of southern Canada. The species typically nests in colonies of 20 to 40 birds, in the tops of live or dead trees on islands, peninsulas, and shorelines. The double-crested cormorant is another colonial breeder. Both birds are sensitive to human disturbances while nesting. Not only is it important to protect their nesting trees from destruction, but their breeding sites also require a wide buffer of trees. Otherwise, these birds may abandon their nests.

Guard colonies in living trees from beavers by wrapping stucco wire or sheet metal around the bases of trunks to prevent trees from being felled. As dead nesting trees decay and collapse, they may be replaced with artificial nesting platforms. These structures are used by great blue herons and double-breasted cormorants and can extend the life of a colony.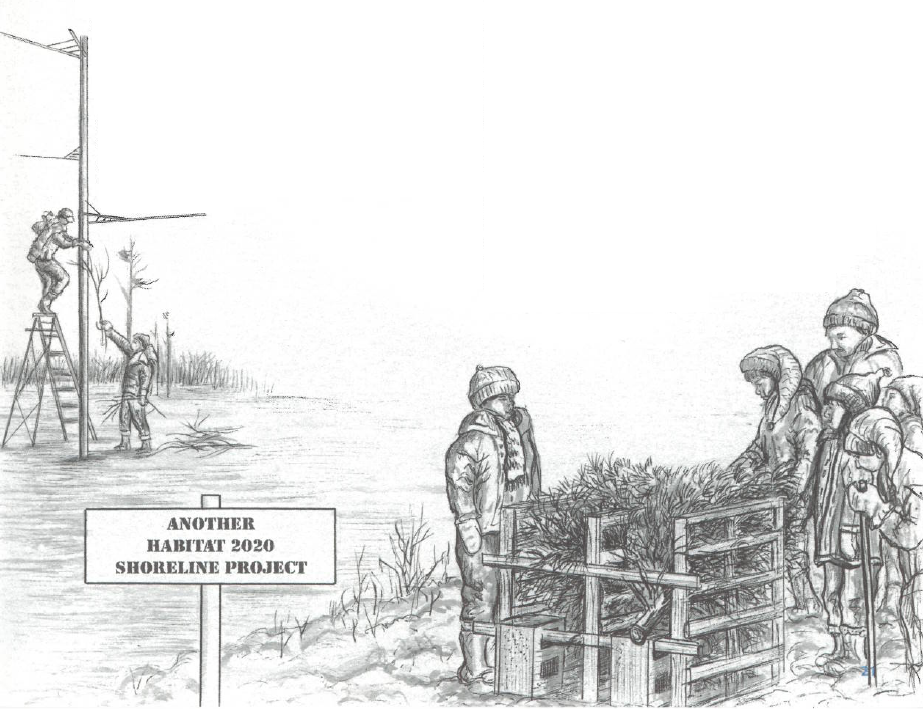 Copyright Notice
© Canadian Wildlife Federation
All rights reserved. Web site content may be electronically copied or printed for classroom, personal and non-commercial use. All other users must receive written permission.