Save Our Soils: Plant to Control Erosion
It's time we stopped treating our soil like dirt. This living resource may seem like pretty passive stuff, but there's a lot more to it than meets the eye. If we were to probe beneath the surface, a "worm's-eye view" of a single square metre of topsoil would reveal a microscopic universe of billions of organisms: bacteria, fungi, insects, grubs, mites, springtails, worms, and even moles.
We're profoundly interconnected with the life that inhabits these nether regions of soil. We literally couldn't survive without it.
Sad to say, we've taken this precious resource for granted throughout our history. The Babylonian Empire crumbled largely because poor cultivation practices and overgrazing by livestock stripped the land of productive soil. Erosion begins when we plow up prairies or cut down forests. Once the roots of grasses and trees disappear, the topsoil they've held in place blows away with the wind or washes away with the rain. But erosion isn't just a problem on farms. It happens in schoolyards and neighbourhoods too.
It's up to us to nurture the soil needed to sustain ecosystems and ourselves. If erosion is occurring in your schoolyard or community, here's what you can do:
Plant a variety of erosion-controlling trees, shrubs, grasses, and legumes. Staghorn-sumac, for example, anchors the soil with its widespread roots. Its foliage breaks the force of falling rain, allowing water to be better absorbed by slowing its flow across the soil's surface. As an added bonus, this wondrous shrub provides food and shelter for numerous species.
Protect slopes prone to erosion by planting vegetation in horizontal rows, not up and down. To help stabilize soil on steeper slopes, arrange plantings in terraces, or anchor large, flat rocks in the ground, so they resemble natural outcroppings. Plant a combination of grasses, legumes, and wildflowers, such as big bluestem, grama-grass, breadroot, broom-beardgrass, leadplant, prairie-trefoil, rabbit-brush, clover, rough fescue, switchgrass, and vetch. Plant shrubs, such as raspberry, silverberry, snowberry, wild black currant, and red cedar.
Control erosion in moist soils beside streams and ponds by planting trees and shrubs, such as alder, red-osier dogwood, sand-bar willow, feltleaf willow, shining willow, balsam poplar, cottonwood, red ash, silver maple, and highbush cranberry.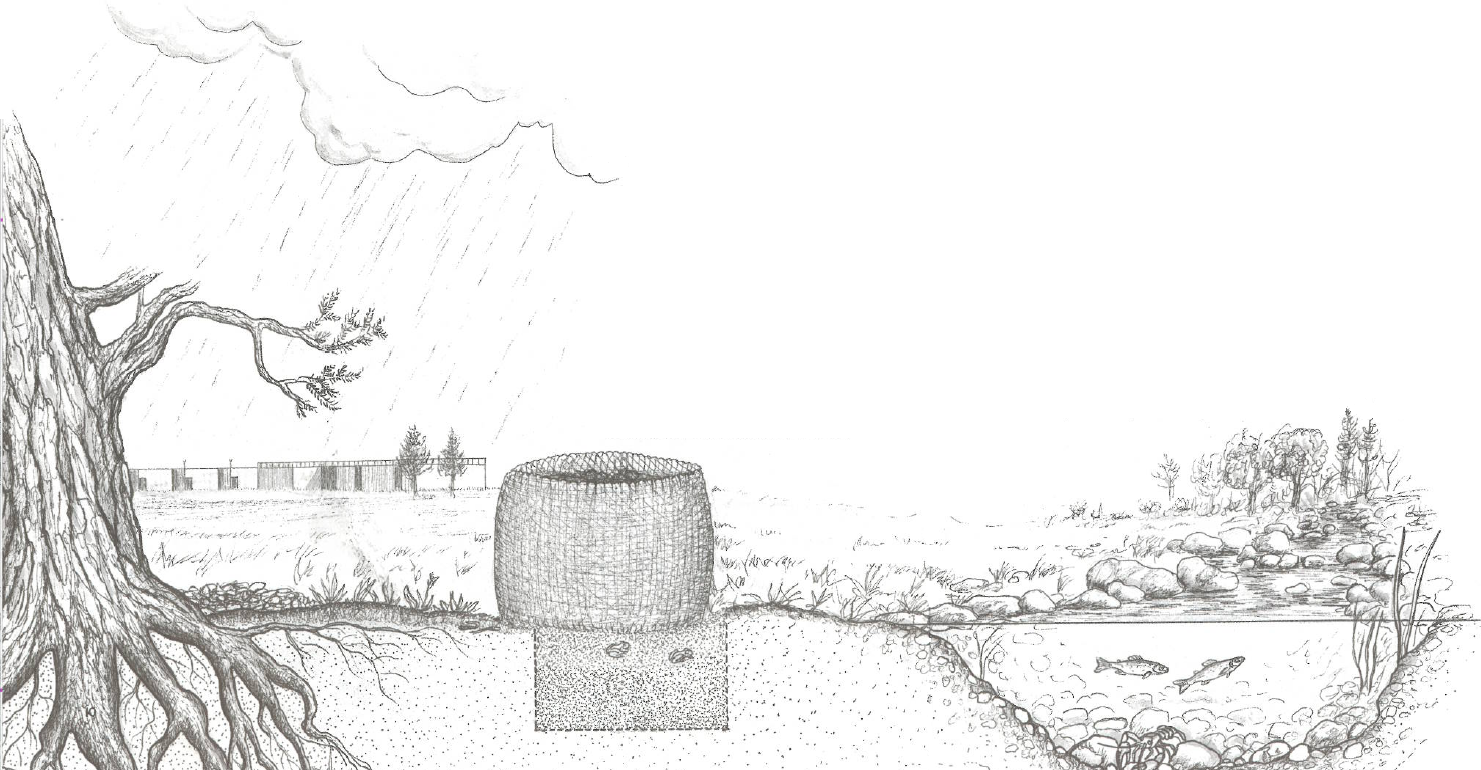 Team up with Toads
Toads are humble habitat heroes. One American toad will eat 10,000 to 20,000 insects a year. It will help eliminate the need for pesticides by chomping on slugs, flies, grubs, woodlice, cutworms, and grasshoppers that might otherwise wreak havoc on your schoolyard habitat. It will serenade you — and other toads — with its musical trill. Once a toad finds your schoolyard, it may stay for years. When it comes to nurturing wildlife habitat, you couldn't ask for a better teammate.
Here are some ways to encourage toads to take up residence in your schoolyard:
Provide toad shelters by digging holes 10 to 15 cm deep in a shady corner of your schoolyard and loosely covering them with boards. Remember to leave the toads room to get in.
Supply water in a ground-level birdbath or other shallow receptacle. Adding a pond to your schoolyard will encourage the breeding of future generations of toads.
While frogs are happy to pass the winter at the bottom of a pond, toads are terrestrial hibernators: they burrow deep into soft sand or soil, beneath the frost line, to spend the long, freezing months in dormancy.
To build a toad hibernaculum:
Dig a hole 1 m square and 1 m deep.
Fill the hole with soft sand.
To give overwintering toads additional protection from freezing temperatures, cover most of the surface of the hibernaculum with a compost pile.
Accommodate Tireless Tree-Dwellers
As far as some folks are concerned, squirrels are nothing more than bushy-tailed rats. Others have learned to appreciate the antics of these dynamic acrobats. They're an important food source for foxes, weasels, hawks, owls, and crows; they plant innumerable nut trees by burying their booty and then forgetting about it; they spread mycorrhizal fungi (vital for the growth and reproduction of trees) through their feces; they share their homes with countless insects, ticks, mites, and spiders; and they give refuge to squirrel fleas, which nourish some beetles. Those beetles, in turn, feed other wildlife.
Grey or black squirrels are common in schoolyards with mature trees. They nest in tree hollows or tangled structures of leaves, twigs, and moss. Where hollows are scarce, squirrels readily adapt to nesting in artificial structures.
Here's how to transform a worn-out tire into a home for these tireless tree-dwellers:
Use a sharp knife or saw to slice right through one section of a tire (both sidewalls and tread). This cut should be positioned at 12 o'clock.
Now slice through the sidewalls at 7 o'clock, without cutting the tread.
Fold the resulting smaller segment (between 7 and 12 o'clock) into the larger to create a 7 or 8 cm entrance hole.
Drill a drainage hole through the bottom of the tire.
With a long bolt or screw at the top and bottom, attach the tire to a shady tree at least 25 cm in diameter, no less than 6 m from the ground.
The entrance hole should face south or east, away from prevailing winter winds.
Check regularly that the structure is mounted securely.
Roll out the Rain Barrel
Water means life to just about every creature on earth. Yet, it may be the resource we take most for granted, in both our own lives and our efforts to nurture wildlife habitat. As our demand for water increases, drought, pollution, and declining water-tables shrink our supply of this critical resource and threaten the habitat of mink, orioles, dragonflies, and countless other wildlife species.
Since your goal is an ecologically sustainable schoolyard, you want your projects to consume as little water as possible. Apart from the extra water required to nurture newly planted vegetation, growing only drought-resistant, native plants should allow your wildlife habitat to thrive on rainfall alone.
Another simple and effective way to meet watering needs is to install rain barrels in your schoolyard. You'd be amazed at the amount of free water that falls from the sky and rolls off the roof of your school every year. By collecting this run-off and saving it for a not-so-rainy day, you'll be able to use it to nurture planting projects and replenish birdbaths and ponds without depleting water resources.
You can build your own rain barrels by using plastic or wooden containers that once held food, such as pickles or olives:
Cut a large hole in the lid of a 250-litre barrel (available from food importers and hardware stores).
Install a plastic screen over the hole to prevent debris from getting inside and mosquitoes from breeding there.
Drill a 3/4" spout hole into the side of the barrel, near the base.
Install the spout hardware: wrap the threading of a faucet with Teflon tape to ensure a good seal; attach the faucet to a galvanized coupling; then push a galvanized bushing through the hole (from the inside of the barrel) and attach the faucet.
Apply a ring of silicone sealant where the coupling meets the barrel wall to prevent leakage.
Channel a downspout from your school roof into the barrel.
If the ground isn't paved, set the barrel on a base of patio stones.
Attach a hose to the faucet as required. Check your rain barrel periodically to ensure that it's working properly.
Mount a Mission to Rescue Native Plants
If a four-lane highway were built right across your school grounds, you'd have to find somewhere else to toboggan or to play Frisbee. Wild plants, on the other hand, can' just "up and go" when we wipe out their habitat. The farmer's plow, the logger's chain-saw, and the developer's bulldozer have cost us thousands of hectares of wetlands, woodlots, and meadows, where native plants once grew. Even your school sits on land that was once home to wild plants and animals.
The Committee on the Status of Endangered Wildlife in Canada lists 95 plant species that are imperilled in this country. One way to help counteract the damage done to plant habitat in your area is to nurture biodiversity. Because the web of life is intricate and interdependent, the loss of just one plant species or gene pool can cause the loss of other life-forms that depend on it for food and shelter. With the loss of species, we also lose possible cures for diseases as well as potential new sources of food. It's high time we treated biodiversity as a sustainable resource that must be nurtured and conserved. One great way to start is by protecting native plants, either by sowing their seeds in your schoolyard or by mounting a mission to rescue plant populations that would otherwise be destroyed.
Unless they're officially slated to be bulldozed, it's always best to leave plants undisturbed. Otherwise, by all means, save as many as you can:
Be on the lookout for signs of land development in your area.
Seek permission before undertaking salvage work.
Note the plants' environment. Is it sunny or shady, damp or dry? (This information will be important at the transplantation stage.)
Give transplants their best chance of survival by handling them carefully and ensuring that soil conditions are suitable for them in your schoolyard.
Some wild plants should never be moved. Unless they're transplanted at the seedling stage, plants with deep root systems (for example, lupines and many Prairie species) often suffer fatal shock if their roots are broken.
Transplant trees, shrubs, and wildflowers in early spring, when the soil is moist and temperatures are cool.
Dig up a generous mass of earth around the plant. Wrap the root ball well with a rag and pack it firmly in a plastic bag to keep it damp.
Once you arrive at the transplant site, try to recreate the plants' home environment and soil conditions as closely as possible.
Nurture a Lifelong Friendship
When you plant a seed you've collected yourself and nurture it from a sprout to a tree, a lifelong friendship can't help but take root. What better way to nurture that friendship than by creating a tree nursery:
Two 1-m x 3-m nursery beds can support 40 to 60 saplings or hundreds of seedlings. Start by choosing a convenient site, without blocking access to heavily used areas like pathways and sports fields. The spot should be close to a water source — preferably a rain barrel — and on level ground or a slight elevation to avoid flooding. The ideal site would be protected from prevailing winds and the noonday sun by a shelterbelt or school building. Otherwise, a snow fence or cedar hedge can act as a buffer.
In windswept areas like sea coasts and prairies, you can establish barriers to protect the nursery with stacks of one to five tires arranged in an arc against the prevailing wind. For added protection, fill the stacked tires with earth and compost, then plant spruces or cedars in them.
Clear the site of grass and weeds. Till the soil to a depth of 20 or 30 cm, using a rototiller to break up very compacted or clayey soil. Then mix in one part compost or well-aged manure to two parts existing soil. You should end up with two raised beds with a narrow path running between them. Surround the beds with retaining walls built of old tires or logs.
Collect tree seeds that ripen in spring, such as white elm, cottonwood, balsam poplar, and red and silver maple. In fall, gather the seeds of deciduous trees like oaks, ashes, birches, hawthorns, hickories, ironwood, and sugar and Manitoba maples. Collect the cones of 15 conifers, such as white pine, balsam fir, spruce, common juniper, eastern hemlock, and red and white cedar. Store them in paper bags until the seeds fall out.
Scatter spring seeds over a nursery bed and moisten them. Plant fall seeds directly in the bed by pressing them gently into the soil. The seeds will go through a process of stratification during the winter months, which will prepare them to germinate in spring.
Regular weeding and watering are critical, especially during the summer. Reduce the need for maintenance by mulching the soil. Thin the seedlings out (15 to 20 cm apart) as they become crowded.
Saplings are ready to transplant to other parts of your schoolyard when they're at least 1 m high. See "Plant Roots in the Future" for transplanting tips.
Copyright Notice
© Canadian Wildlife Federation
All rights reserved. Web site content may be electronically copied or printed for classroom, personal and non-commercial use. All other users must receive written permission.