Every spring, salamanders, frogs, toads, snakes, and turtles awaken from long winter slumbers. They abandon hibernation sites, such as toad lairs beneath the forest floor and underground dens holding hundreds of snakes, and travel short distances over land. En route to breeding habitats, like meadows, shorelines, and vernal pools (temporary wetlands, formed by rainfall and melting snow), millions of these animals must cross roads. Disaster is often the result.
More than 10,000 leopard frogs were slaughtered by motor vehicles one summer along a four kilometre stretch of highway in Long Point, Ontario. A new roadside curb in Waterton Lakes National Park, Alberta, was an insurmountable obstacle for thousands of long-toed salamanders, many of which were squashed by cars while trying to reach their breeding grounds. Ramps have since been installed along that roadside to make way for migrating salamanders. Similarly, tunnels have been built under highways for red-sided garter snakes in Western Canada and for common toads in Madingley, England.
You too can give safe passage to rambling reptiles and ambulatory amphibians:
Find out if a micro-migration takes place in your area. Watch for signs of movement in spring and fall. In general, reptiles are more mobile on hot, sunny days, amphibians on warm, rainy nights. Ask wildlife biologists to share information on local migrants and how to keep them out of harm's way.
Work with local conservation authorities during peak migration periods. You may be able to put up reptile and amphibian fences alongside hazardous stretches of road. These temporary barriers of fine mesh material — 35 to 50 cm high, dug 10 cm into the ground — are held in place with a series of stakes (see illustration). Ask adult volunteers to gather any animals prevented from crossing in buckets and release them somewhere safe, such as under tree cover near a wetland, on the opposite side of the road.
Another short-term measure for migrants is to place fine mesh netting under sewer grates, which are otherwise death traps for reptiles and amphibians crossing roads.
In areas where many traffic fatalities occur, try persuading your municipality to build tunnels under highways.
Recommending that areas be closed off or traffic re-routed until a migration has safely passed is probably the most effective solution.
As a rule, protecting a local migration means getting your community to care. Promote public involvement in making roads reptile- and amphibian-friendly by putting a positive spin on the issue. Hold a migration celebration instead of focusing on the casualties caused by cars.
Assorted aquatic habitat projects beneficial to micro-migrants appear here.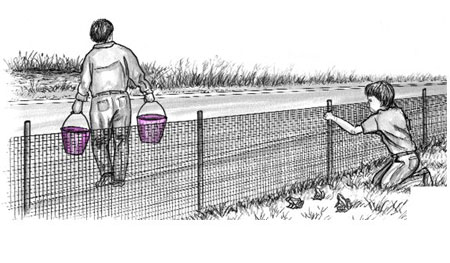 Copyright Notice
© Canadian Wildlife Federation
All rights reserved. Web site content may be electronically copied or printed for classroom, personal and non-commercial use. All other users must receive written permission.