Creating habitat for migrants is simple if you develop your project in stages and if it is driven by student initiative.
Build your team:

Start by joining forces with other students, teachers, and school administrators. Volunteers, such as parents and seniors, can make a key contribution at this stage. Recruit members with diverse backgrounds and from several grades to improve your chances of success.

Survey your site:

Inventory plant and animal species in and around your project site. Note which habitat elements are available or missing. Are there natural food sources, like fruits, seeds, and nectar? Is there a river, marsh, or other source of water? Can wildlife find shelter in places like rock piles, thickets, and tree hollows? Is there space to grow and multiply? What human elements are present? Notice buildings, paved areas, and athletic fields. Draw a map of the site, including both habitat and human elements.

Make an action plan:

Long-term goals are critical, but be sure to set short-term goals as well. Use data compiled while surveying your site to choose habitat projects. For instance, before constructing a shelter, make sure the animal you want to accommodate breeds in your area. An array of planting and building projects will attract the widest variety of species. Always choose native plants for your habitat. They're adapted to local soils and climate, help to con-serve our floral heritage, and satisfy the needs of wildlife better than introduced plants.

Collaborate with your community:

Experts, such as wildlife biologists, foresters, and landscape architects can give your project a solid foundation. The partners listed on the back of this booklet are important sources of expert help. Custodial workers have knowledge of school grounds required for project maintenance. Landowners and municipal staff are important partners if you plan to conserve habitat beyond your schoolyard.

Seek sponsorship:

Ask local businesses and organizations, such as hardware stores and wildflower societies, to donate services and supplies in exchange for free publicity. Raise funds through car washes, raffles, and bake sales. Request donations from local sources, like fish and game associations and naturalist clubs. Acknowledge all sponsorship in a newsletter or on a plaque at your project site.

Carry out your plan:

Success doesn't always follow from a cookbook approach. Trial and error are vital ingredients. Record your progress in a journal. Take photos before, during, and after planting and building activities.

Maintain your projects:

Long after you've implemented your plan, see that planting projects are well nurtured and that building projects are in good repair.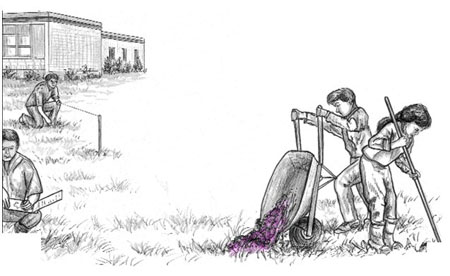 Copyright Notice
© Canadian Wildlife Federation
All rights reserved. Web site content may be electronically copied or printed for classroom, personal and non-commercial use. All other users must receive written permission.