Restore a Ribbon of Life
The strip of moisture-loving trees, shrubs, and herbaceous plants along the edge of a lake, river, wetland, or other watery habitat is called the buffer zone. This ribbon of life enhances the beauty of the shoreline; shades and prevents the heating of water, which can kill aquatic creatures; protects water quality by filtering the run-off of pollutants like fertilizers and pesticides from land; controls soil erosion, which muddies streams and ruins fish spawning habitat; and provides food, cover, and nesting sites for a rich variety of life forms on land and in water.

The wider the strip (and the lusher, more diverse, and deeply rooted its vegetation), the greater its ability to work as a buffer and life-support system. Chances are logging, construction, agriculture, or other activities have damaged one of these areas in your community. Here's how you can help revitalize a ribbon of life:
Base your strategy on the amount of vegetation missing and the extent of erosion along your shoreline. Exposed, collapsed banks demand immediate attention.
Survey your site and the surrounding area to see what plants already grow there. Many will be suitable for transplanting or as sources of seeds and cuttings to plant in the disturbed area.
Choose a variety of native plants adapted to local conditions. They are favoured by wildlife and more resistant to disease and drought than non-native species. Keep in mind the sun, shade, soil, and moisture requirements of plants.
Plant in spring, after the last frost. For seedling stock, prepare a hole deep enough for a root system; plant each tree with its stem straight up and roots fanned out below ground level; replace the soil up to the root collar (a swelling above the roots), ensuring that there are no air pockets; and use your heel to pack the ground down around the stem.
An effective alternative to planting seedlings, especially on larger shorelines, is to propagate vegetation from tree and shrub cuttings harvested from local sites. During late winter dormancy, before the buds sprout, collect shoots of wildlife favourites, like balsam-poplar, elderberry, serviceberry, red-osier dogwood, and sandbar-willow. Use a sharp knife to cut lengths of 20 to 25 cm, trimming one end at an angle. Each cutting should have at least three healthy buds. After spring thaw, before the buds open, poke a hole in the ground and push the angled end of each cutting into the soil, leaving only 3 cm above the surface and packing earth around the shoot. Larger cuttings, or "poles," 2 m in length and 5 to 10 cm in diameter, are also useful for stabilizing eroding banks. Push each pole 1 m into the shoreline, or drive it in with a rubber mallet if the soil is too hard. Heavy vegetative growth should appear on cuttings and posts by midsummer.
The ideal buffer strip extends a minimum of 30 m from the water's edge. One model to follow consists of five to 10 zigzagging rows of fast-growing, flood-tolerant trees, like silver maple, Manitoba maple, cottonwood, willow, or ash, alongside the water, with 0.75 to 1 m between trees and 2 m between rows. Plant the inner row just below the high-water mark (about 25 cm from the water's edge). Fruit-and nut-bearing trees, shrubs, and vines are also valuable as the inner and outer rows of the buffer strip. Adjacent to the outer row, plant a wide strip of native grasses and legumes. This meeting of vegetative communities will create an "edge effect," or mingling among wildlife species attracted to different types of plants.
If possible, water during droughts and weed out competing vegetation in the first few years.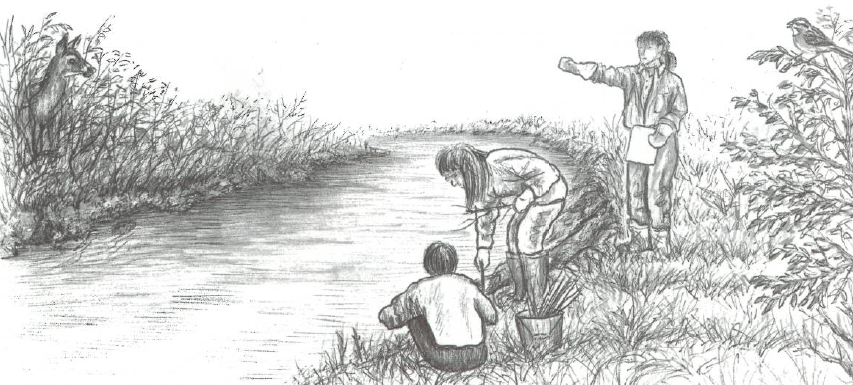 Ode to Dead Wood
One way to enhance a shoreline buffer zone is to resist tidying up leaves, twigs, rubble, and brush piles. Coarse woody debris and snags (standing dead trees) are other examples of important habitats often destroyed by the tidy-up impulse. The more we learn about ecosystems, the more we appreciate the key role dead wood plays in sustaining living things.

A fallen tree may support more life than a living one, for decaying wood is a biological legacy — a link between past and future forests. It recycles critical nutrients back into the soil and serves as the foundation of a rich and complex food web: bacteria, fungi, and wood-boring insects like termites and carpenter ants consume the rotting wood; they, in turn, become food for squirrels, shrews, salamanders, and centipedes, which nourish such predators as weasels and owls. Dead wood also shelters a multitude of shoreline species: loose bark and cracks supply safe hiding places for skinks, voles, and chipmunks; juncos nest around exposed roots; deer mice cache food in cavities; grouse use downed trees as drumming sites; and hollow logs provide lodgings for bears and raccoons, breeding sites for martens and porcupines, and cover for deer and winter wrens.

Snags are the monarchs of the dead wood realm, with such shoreline birds as eagles, ospreys, great horned owls, ravens, and herons nesting in their crowns, woodpeckers excavating their trunks, chickadees, flying squirrels, and wood ducks nesting in their cavities, and bats and wood frogs sheltering underneath their bark.

Let trees in each stage of birth, growth, death, decay, and renewal fulfil their roles. About 10 or 12 snags should remain per hectare in a buffer zone, along with coarse woody debris in a variety of species, sizes, and stages of decay scattered throughout. (Note that trees infected with Dutch elm disease can infect healthy elms and should not remain standing.) Boost the wildlife value of snag trees by planting vines like bittersweet, grape, or Virginia creeper at the snag's base.
Look, Mom — No Cavities!
Dozens of cavity-nesting birds and mammals depend on hollows, typically excavated by woodpeckers, for their survival. But such factors as logging, fuel-wood harvesting, and housing developments have left many Canadian species out in the cold. For instance, some of our most enchanting owls — including saw-whet, spotted, screech, barred, boreal, northern pygmy, and flammulated owls — are having a hard time finding shelter in buffer zones across this country.

We can help give owls and other cavity-nesting creatures homes by placing nesting boxes along wooded shorelines. Contact CWF to obtain plans to construct a simple, one-board nesting box that has proven effective in accommodating boreal, northern saw-whet, and screech-owls.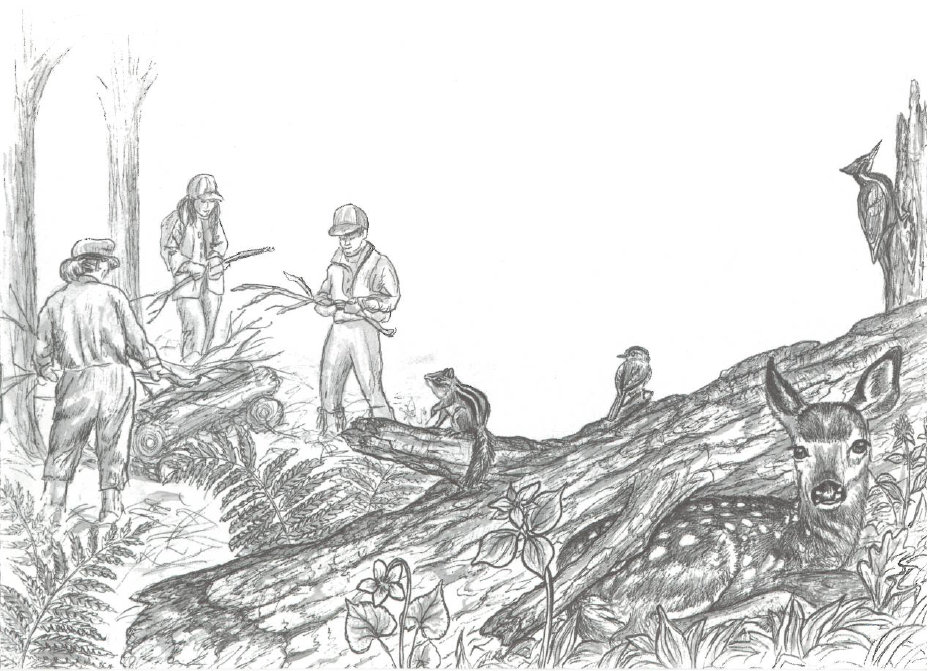 Create Microhabitats in the Buffer Zone
An easy way to shelter an array of shoreline wildlife is to turn rocks and woody debris into microhabitats.
Stone heaps are mounds of stones with inner crevices and crannies and steep rock faces. They appeal to rock-dwelling creatures and ground-feeding birds that feed in areas with sharp changes in slope.

Wood piles are constructed on a framework of logs stacked in a crisscross manner to form several tiers and layers of hiding spots. These structures are covered with roots, branches, and twigs, starting with the coarsest material and finishing with conifer branches piled to a height of 1.5 to 2 m. The wood pile will gradually settle as bottom logs rot, and vegetation will envelop the structure, optimizing its value for wildlife.
The key to making these microhabitats attractive to shoreline creatures is to leave gaps of various sizes between materials as shelter and nesting sites. Achieve this effect by using the largest building materials, such as logs or boulders, as the base and smaller materials, like branches or twigs, as outer layers.
Plant such vines as bittersweet, honeysuckle, wild grape, Virginia creeper, and virgin's-bower around the edges of the microhabitat, so they will grow to provide additional cover and food supplies.
Enable wildlife to travel to and from microhabitats in safety by building these structures in such sheltered areas as edges between fields and woods.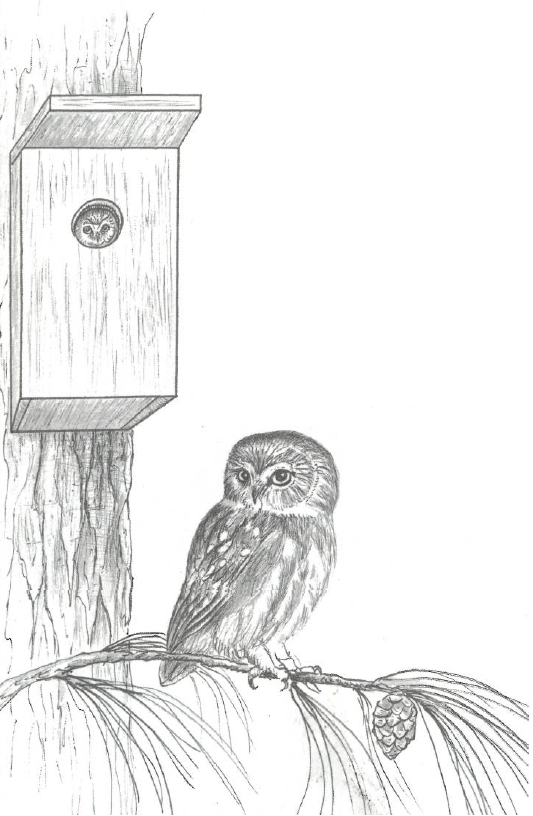 Copyright Notice
© Canadian Wildlife Federation
All rights reserved. Web site content may be electronically copied or printed for classroom, personal and non-commercial use. All other users must receive written permission.