Chances are a unique habitat near you is in danger of being drained, paved over, dug up, or dumped upon. Some spots are destroyed before people even know they exist. Help avoid a habitat disaster by getting key lawmakers to take your concerns seriously. But first, do your homework:
Find out if the land is crown or private property. Consult with experts, such as naturalists in your region and biologists with provincial or territorial re source ministries and wildlife and nature federations. These people should know ways to seek legal protection for unique habitats.
Gather as much information about the spot as you can. Where exactly is it located? Have any wildlife studies been done there? What flora and fauna are found there? Are there any species at risk?
Inform your community why this habitat should be protected. Put up displays at local libraries and events. Explain the steps you're taking and why. With permission, place information cards at tables in local restaurants with brief messages, such as: "Did you know that a small wetland near our town is slated for development? This habitat is important to a very rare salamander that is in danger of disappearing from our province."
Public persuasion is the best way to go. Once you have community support, get municipal and territorial or provincial politicians on your side. Unless they hear from you, many legislators may not know about this important habitat or how strongly their constituents feel about it.
A well-written letter or email to the right lawmaker can make a huge difference. Be brief.
Discuss only one issue in your letter. Explain from your heart why it matters to you.
Make a specific request. For instance, ask for a hearing or for your lawmaker to vote for a particular wildlife-related bill or amendment. Request a prompt reply.
A posted letter will more likely be read than a faxed or emailed one.
Create a Mini-Woodland
Succession is going on all the time in nature. This remarkable process occurs over many years, when one type of habitat gradually changes into another. As certain plant species are replaced by others, succession can turn an abandoned lot into a forest. Succession can transform a pond into dry land, or a burnt-over area into lush, green space again. Left alone, most habitat would slowly but surely turn back into woodland. However, humans and animals keep succession in check by ploughing and grazing.

As a long-range project, establish a small woodland in your schoolyard or community for future generations of humans and wildlife to enjoy.
If you're lucky, you may already have some mature trees on your school grounds. If so, you can help this habitat by planting shade-loving shrubs and wildflowers amongst the trees. Pile up dead logs and spread a thick layer of rotting leaves around the site. Rotting wood and leaves provide critical habitat for innumerable species, including insects, fungi, and moss.
If you start your mini-woodland from scratch, first do research on tree and plant species native to your area.
Determine the size of the woodland, the number of trees, and what species you want to plant. Remember diversity!
Plant your woodland seedlings about 2 m apart and, if possible, with a mulch of chipped bark or fallen or decomposed leaves to discourage weeds. (See "A New Lease on Leaves")
Water your seedlings regularly, especially during their first summer.
Once the trees are established (in several years), remember to add a variety of shade-loving woodland plants.
As the years go by, keep a record of wildlife that comes to call.
Starry Sky Beetle
A beautiful beetle from China could become a deadly menace in Canada. The Asian long-horned beetle, also known as the starry sky beetle, bores one-centimetre-wide holes in maple trees. Since 1996, the insect has destroyed thousands of trees in Illinois and New York. It has also appeared in Canada, lurking in wooden packing crates from overseas. If you spot this beetle, report your sighting to us!
Grow Seedlings of Hope
We take trees for granted. Without them, life on our planet would end. These arboreal beauties supply oxygen, conserve water, and fertilize soil. Trees also provide habitat for everything from millipedes to grizzly bears. One of the most wonderful things you can do for wildlife is to plant a diversity of native trees. You can buy seedlings or saplings from nurseries or, better still, start your very own from seeds in the classroom.
Gather seeds from native trees growing in your area. They will be best adapted to your climate and soil conditions. Consult with a local nursery for advice on tree species most likely to succeed.
The seeds of some species, such as balsam poplar, cottonwood, white elm, and red and silver maple, are ready to collect in spring. Fall is the time to collect the ripe seeds of oaks, ashes, birches, cherries, American beech, and sugar and Manitoba maples. Also in fall, gather cones from pines, spruces, tamarack, balsam fir, and red and white cedars. Keep the cones in a paper bag at room temperature for a few days to a week till the seeds fall out. Remember to label each batch of seeds with the species' name.
Sprinkle seeds into paper plant pots filled with damp potting soil. (See "Paper Plant Pots" below) Since not all seeds will germinate, plant five or six of a single species in each pot, then thin out the seedlings if more than one grows.
Fall seeds must be "persuaded" that winter has come and gone before sprouting. Place them in paper plant pots with damp potting soil. Then leave them covered in a refrigerator for a month. Make sure the soil stays damp. Such species as eastern hemlock, hawthorns, hickories, and ironwood will need as much as four months in the refrigerator.
Place the plant pots in a container lined with reflective material, such as aluminum foil, in a sunny window.
Seedling roots dry out easily, so keep the earth moist (not wet) at all times.
Before transplanting seedlings to your schoolyard or another site, it's important to "harden them off" — that is, place them outside during the day and bring them in at night for about a week.
Plant seedlings directly into the earth in their paper pots. These containers will decompose naturally.
Paper Plant Pots
Roll several sheets of newspaper (black and white only) around a rolling pin or other narrow, cylindrical object. Slide each paper tube off and staple the ends.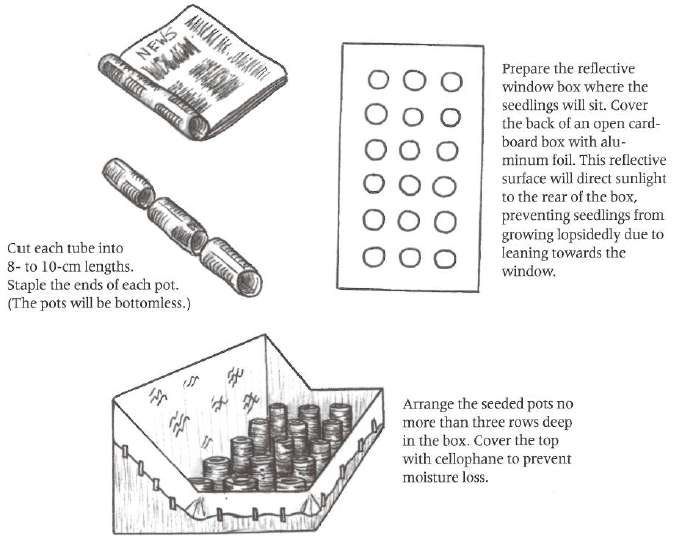 Protect Precious Plantings
Without protection from lawnmowers and trampling feet, your seedlings will surely be doomed.
Remember to inform your principal and maintenance staff of your plans well ahead of time. Then show them exactly where you've planted your tree seedlings.
Surround the planting plot with boulders, a rail fence, or stakes joined with brightly coloured plastic ribbon.
Post a large, weatherproof sign with a notice such as "Greenville Public School Tree Nursery."
Be sure to weed and water the plot regularly, especially during summer. Strike partnerships with neighbours, parents, or seniors who can tend to your trees while school is out.
Minimize Vandalism
Get as many people involved in your project as possible — not only the whole school but also neighbours, parents, and community volunteers. Involve them from day one with your planning, research, fund-raising, building, planting, and so on. Vandalism decreases when people feel a sense of responsibility towards a project.
Keep school maintenance staff informed and involved from the start.
Distribute flyers in your neighbourhood, describing your project and asking people to keep their eyes open for signs of vandals. When people feel involved, they're more likely to report disturbances in the project area.
Post several signs displaying the name and explaining the purpose of the project.
Form a committee of volunteers to water, weed, and watch over your project through the summer.
If vandalism occurs, repair the damage and carry on. Persistence wins out in the end.
Learn to Coexist with Wildlife
Humans often think of themselves as quite separate from, and superior to, wild creatures. In fact, we're closely connected to every other life form on the planet. What's more, although wildlife could get along fine if we disappeared — and a lot of endangered species would probably bounce back — we couldn't survive without the bugs, birds, and beasts that make this world go round. Without wildlife to keep natural processes working, our planet's ecosystem would collapse. That's why we need to change our way of thinking and become responsible stewards of our planet's wild species and spaces.

Here are ten everyday strategies that can really make a difference for wildlife and habitats everywhere:
Use cars less. They pollute our environment and rundown many wild animals. If you must drive, do so at a safe speed to allow wildlife a chance to get out of the way.
Don't let your dogs or cats run free. Cats kill millions of songbirds each year, including endangered species like the prothonotary warbler.
Support wildlife-friendly farmers by buying food grown without herbicides and pesticides.
If you find a dead bird with a band on its leg, notify the bird-banding Office of the Canadian Wildlife Service (CWS). Also notify CWS if you spot a live bird with any kind of marker such as a collar or wing tag.
Take injured birds and mammals to wildlife care centres. Don't attempt to rehabilitate them yourself.
Avoid buying products with disposable plastic packaging. Reuse empty yoghurt, margarine, and other food containers. Many animals die from swallowing plastic debris or from strangling on six-pack rings. Before disposing of six-pack rings, cut them up with scissors.
Be a responsible boater. Never throw trash overboard. Stay out of shallows that are critical habitat for aquatic creatures. Never dump minnows or other fishing bait into the water. Alien species spread this way and upset the balance of ecosystems.
When hiking and exploring the outdoors, leave birds' nests and rare plants undisturbed. Stay out of caves and mines where bats may be hibernating.
Choose cross-country skiing and canoeing over snowmobiling and motor boating. Wildlife will thank you.
Always speak out for wildlife. Pass on what you know to your family, friends, and neighbours.
Copyright Notice
© Canadian Wildlife Federation
All rights reserved. Web site content may be electronically copied or printed for classroom, personal and non-commercial use. All other users must receive written permission.