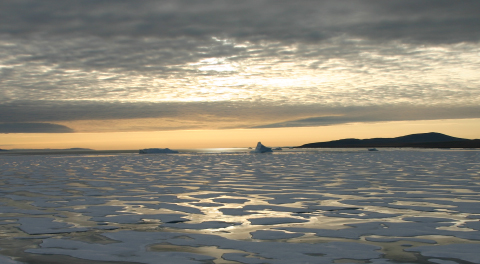 Shift Happens
Full fathom five thy father lies;
Of his bones are coral made;
Those are pearls that were his eyes:
Nothing of him that doth fade
But doth suffer a sea-change
Into something rich and strange.
— From The Tempest by William Shakespeare

Since Shakespeare first coined the expression "sea-change," it has come to mean a profound transformation. Indeed, climate change is a global shift in climatic conditions on land and at sea.

For thousands of years, the Earth's climate hardly changed at all. Temperatures, rainfall, the length of seasons, and other envi­ronmental factors remained just right for living things. This stabili­ty was thanks to the greenhouse effect.

Just as the glass of a greenhouse keeps the sun's warmth inside, a blanket of greenhouse gas traps solar heat in the planet's atmosphere. Without these gases, the heat of the sun would escape into space because of the albedo effect, and the average temperature on Earth would plunge from 15 to -18°C.

Until recently, climate change happened slowly and naturally. For example, most of the glaciers that covered the planet 20,000 years ago melted over many millennia

Today, the world is heat­ing up faster than at any other time in 10,000 years. Global temperatures have risen significantly since the start of the Industrial Revolution in the early 1700s. Since then, greenhouse gas concentrations in the atmosphere have climbed — carbon dioxide (CO2) by 30 percent, nitrous oxide by 15 percent, and methane by 100 percent. The past decade was the warmest in 1,000 years.

While the science of climate change is still evolving, most experts predict a dramatic shift in worldwide environmental condi­tions if present trends continue unchecked. Scientists anticipate that C02 concentrations will triple by the end of this century. By 2100, average global temperatures could rise by 1.5 to 4.5°C. The increase will be smallest at the equator and progressively larger toward the poles. In some parts of Canada, temperatures could rise by 5 to 10°C. Scientists forecast that our oceans and atmosphere will warm up more rapidly than ever before, resulting in climatic changes greater than humans have ever seen.
Signs of the Climes
Today, Canadians are seeing the signs of a major shift in climatic conditions on land and at sea. Longer, hotter summers. Shorter, milder winters. Rising sea levels. Lowering lake levels. Shrinking mountain glaciers. More frequent and violent storms. Radical swings between deluge and drought.

In the past, climate change occurred so slowly that both terres­trial and aquatic life had time to adjust. Today, shifts in tempera­ture, seasons, and weather are happening too fast for some species to adapt. Instincts developed over thousands or millions of years are losing their survival value. Key habitat elements — food, water, shelter, and space — are declining or disappearing.

Biological impacts of climate change are becoming more and more evident. Numerous species are shifting their ranges, migrat­ing sooner, and bearing young earlier than in the past. Fish from southern waters, like the great white shark and Pacific blue marlin, are appearing more frequently off Canada's coasts. In some regions, wildflowers now come into bloom and birds arrive on their breeding grounds weeks before they once did. Amphibians are declining globally. Coral reefs worldwide are dying off.

The most dramatic changes of all are taking place in Canada's Arctic, which is heating up faster than anywhere else. Here, north­erners are watching in disbelief as the permafrost melts beneath their feet, Pacific salmon are caught for the first time, and sea ice shrinks away from the coast.
Copyright Notice
© Canadian Wildlife Federation
All rights reserved. Web site content may be electronically copied or printed for classroom, personal and non-commercial use. All other users must receive written permission.